Events Archive
Collection of past events
Re-start
Group online exhibit, curator Julie Walsh
For xR Bavaria @ Medientage München, in Mozilla Hubs, October 2020
The exhibit is divided over two spaces:
Dome1
has the exhibition text on the whole show and half of the artworks. It has a portal to Dome2, and vice versa. Here is a direct link to
Dome2, where my piece Lend Me Your Face!
is installed (along with many other works).
Lend Me Your Face!
as a video installation is composed of pre-recorded deepfake videos generated during the premiere of the artwork in the "Goetzendaemmerung" group show of the Artists Association in Haus der Kunst Munich.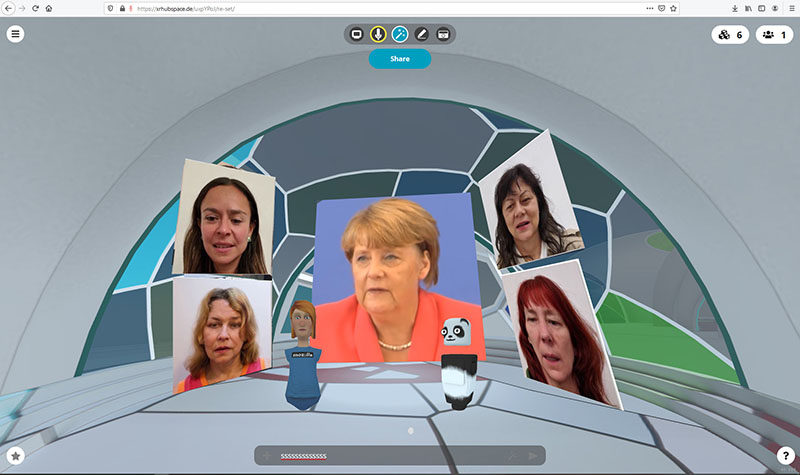 Museum of Modern Art (MoMA NY) - Reopening 2019
MoMA closed over summer 2019 to finish a complete remodeling not only of the building and exhibition space, but also of the curatorial concept for the whole museum and especially its permanent collection.
In the Reopening Exhibition, the
Connection Machine CM-2
was shown in a free exhibit drawn from the permanent collection:
21 October 2019 - January 26, 2020
Organized by Paola Antonelli, Senior Curator, and Anna Burckhardt, Curatorial Assistant, Dept. of Architecture and Design.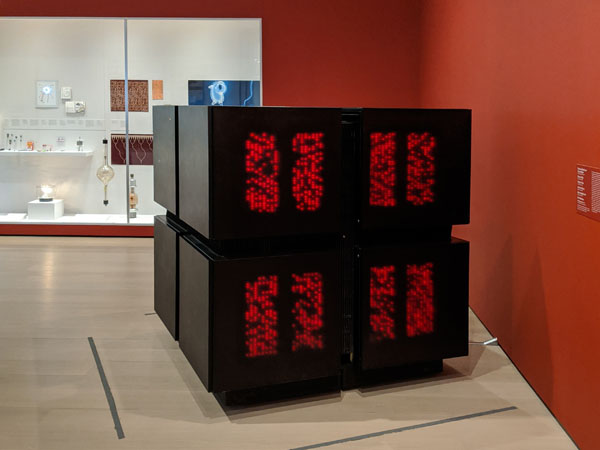 VECTOR Artist Book Launch, Munich
Kunstverein München
11 December 2019
VECTOR Artists Journal publishes a collection of essays by contemporary artists. Each issue focuses on a different city from around the world and compiles a collection of written or pictorial essays by 25 Artists who are based in the specific city. It is available as a free download in the "Journal" section of the VECTOR website for viewing and download. You can also view each essay on-line by clicking on an artists name in the "Artists" section.
Guest Editor
Birthe Blauth
Managing Editors
Peter Gregorio
,
Javier Barrios
Premiering:
Mixed reality artwork, Tamiko Thiel and
/p
, 2019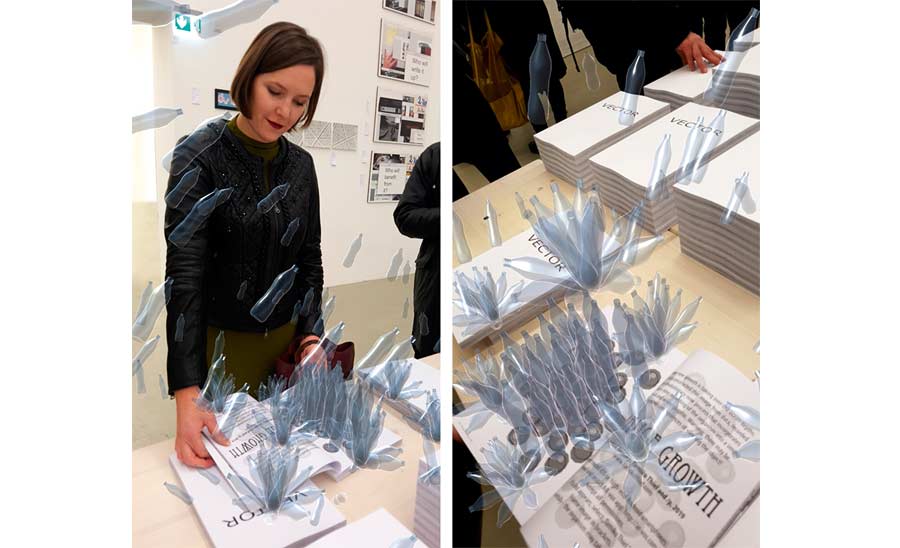 PIN. Friends of the Pinakothek Benefit Auction, Munich
Pinakothek der Moderne
23 November 2019
Nothing of him that doth fade ... was auctioned at the
PIN. Friends of the Pinakothek fundraising gala
for the
Pinakothek der Moderne
and
Museum Brandhorst
in Munich.
Nothing of him that doth fade ...
3D ceramic print and mixed reality artwork, Tamiko Thiel and
/p
, 2019

Programmed: Rules, Codes, and Choreographies in Art, 1965–2018
Whitney Museum of American Art NY
28 September 2018 - 14 April 2019
Group exhibit organized by Christiane Paul, Adjunct Curator of Digital Art, and Carol Mancusi-Ungaro, Melva Bucksbaum Associate Director for Conservation and Research, and Clémence White, curatorial assistant.
Premiering:
Unexpected Growth
Augmented reality commission, Tamiko Thiel (with
/p
), 2018

Museum of Modern Art NY
13 November 2017 - 8 April 2018
Curated by Sean Anderson and Giampaolo Bianconi
In 2016 the Museum of Modern Art acquired one of the few remaining
Connection Machine CM-2
artificial intelligence supercomputers for their permanent collection. It is unlikely to be on permanent display, so go see it now!
Panel discussion recording online:
Thinking Machines: An Evening with Beryl Korot, Zabet Patterson, and Tamiko Thiel
See also: How the Connection Machine
inspired Steve Jobs
and ushered in a sea change in his design esthetic.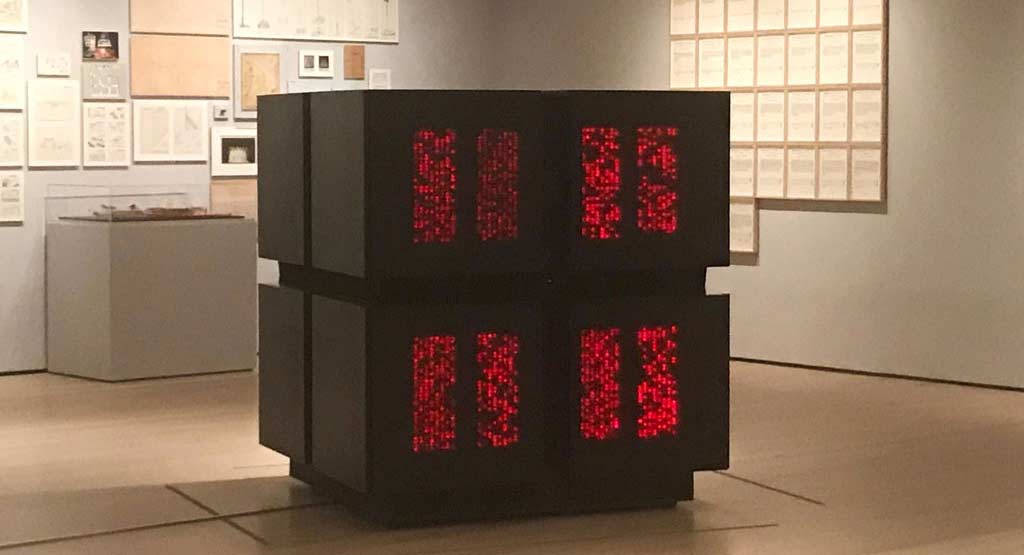 Goethe-Institut New York
Organized by Tamiko Thiel and Caroline Sinders, October 28, 2017
Started in 2015, FACETS is an interdisciplinary 'un-conference' focused on furthering marginalized voices at the intersections of art, technology, and engineering. This year's focus is on Art and Artificial Intelligence (AI), and will explore the future of activism, data science, and bias within machine learning and artificial intelligence.
View video recordings of all 5 sessions here >>

Wild Gardens @ Neue Sammlung / Pinakothek der Moderne, Munich
7pm Saturday, 14 November, 2017
An Augmented Reality Tour with Dr. Xenia Riemann-Tyroller, curator at Die Neue Sammlung/The Design Museum, for the Lange Nacht der Museen (Long Night of the Munich Museums).
Wild Gardens have sprouted up around the grounds of the Pinakothek der Moderne in Munich, almost overwhelming the visitors and the little Futuro house!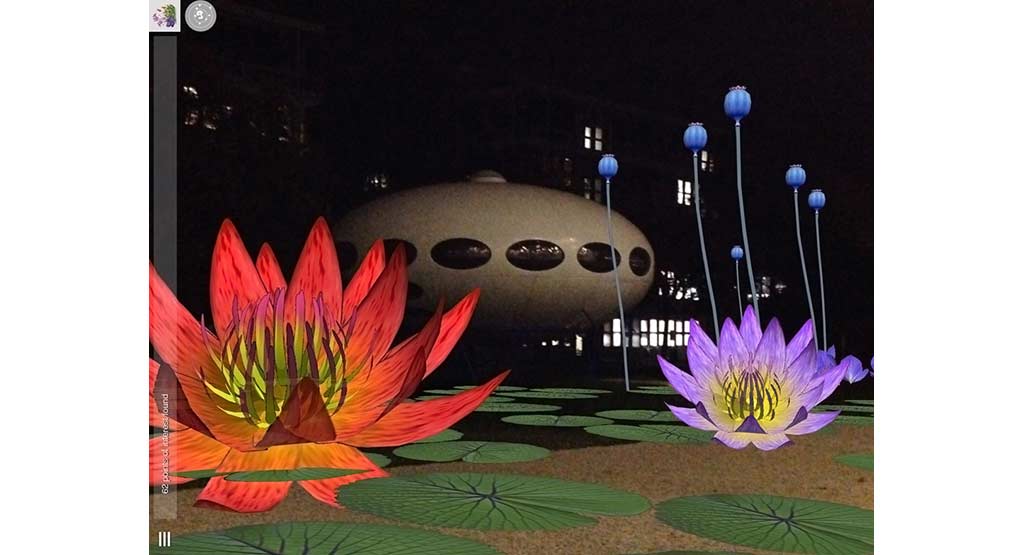 Priska Pasquer Gallery, Cologne, Germany:
9 Sept. - 28 Oct. 2017
Virtual reality exhibit curated by
Tina Sauerländer (peer to space)
Featuring "The Travels of Mariko Horo," virtual reality large-screen projection installation
Plus a limited edition fine art print of the scene "Avogadori in the Opal Palace," taken from the larger work.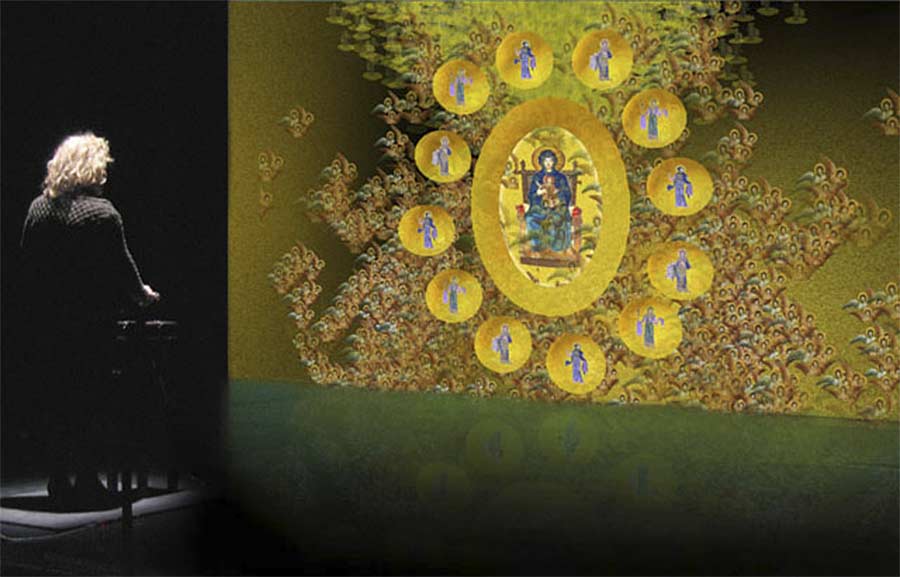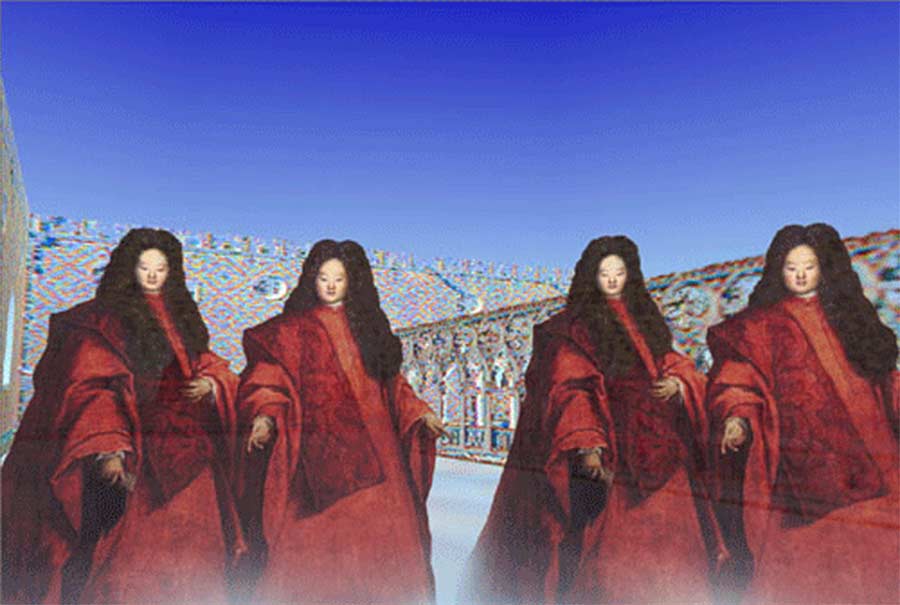 Salem, Massachusetts, USA:
Augmented reality exhibit curated and produced by George Fifield / Boston Cyberarts
With matching funding from the NEA (National Endowment for the Arts)
@
Salem Maritime National Historic Site
, Salem, MA.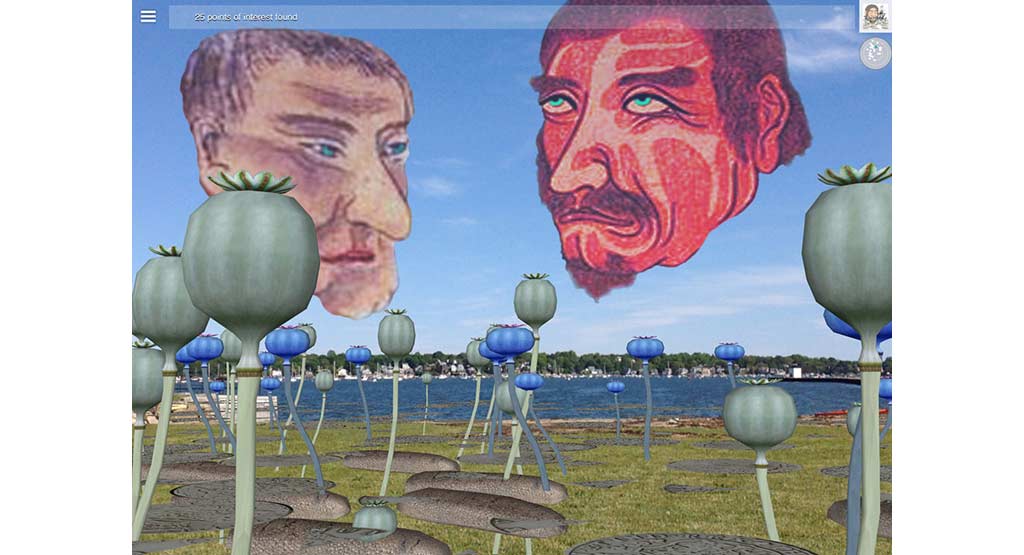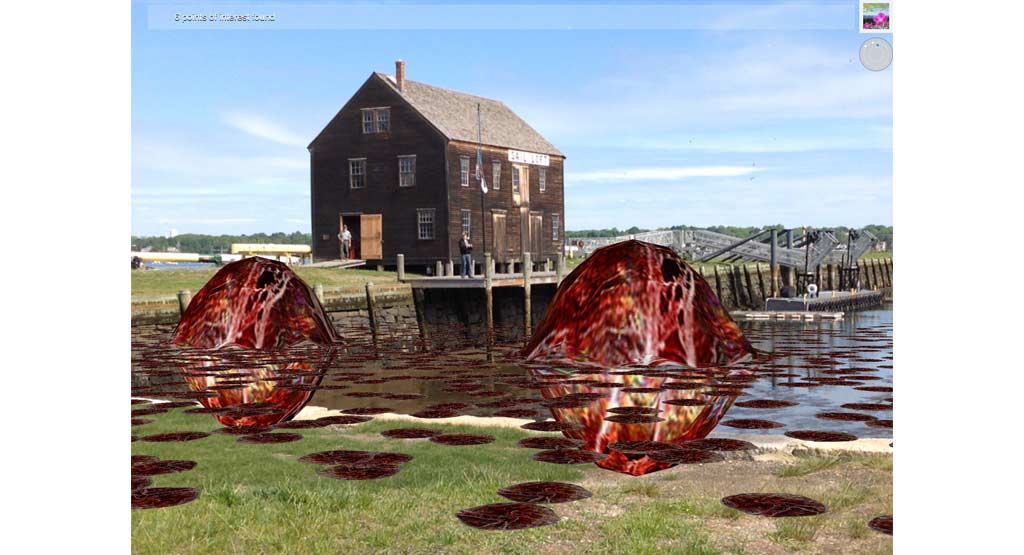 Land of Cloud
- Tilt Brush Virtual Reality sketch
A preliminary collaboration with the Google Tilt Brush team! Exploring how every plant and figure can be created with a unique brush and gesture. In the "Land of Cloud": The people are silent. They communicate not through speech, gesture or gaze, but through strange "cloud mirrors," which keep them in constant contact with their deity, The Cloud, in whose image they are created.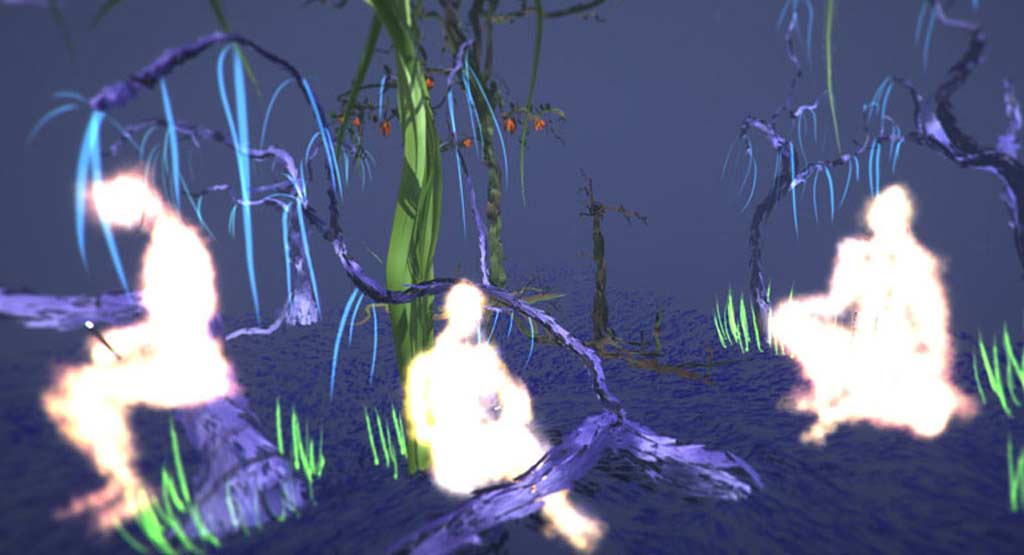 Augmented reality installation in El Barrio/East Harlem
The Caribbean Cultural Center and African Diaspora Institute
is a cultural center for the world-wide African diaspora based in East Harlem ("Spanish Harlem") in New York City. Back in 2012 as "AR artistic advisor" I helped them get a
Rockefeller Foundation Cultural Innovation Award
for "Mi Querido Barrio," a Street Art project to put their art, culture and history on the streets of El Barrio/East Harlem using augmented reality.
I held workshops in AR for CCCADI's artists, and they invited me to create a work for the exhibit that would trigger off the facade of the new building itself. For my piece we asked residents, "What makes El Barrio feel like home?" I took their handwritten and signed answers and transformed them into golden words that swirl around you when you scan the facade.
Go to the "Mi Querido Barrio" website for information on all the artworks, and how to view them in East Harlem.
For the CCCADI page on "El Barrio is home!" please click here.
For my own page with more images from the opening please click here.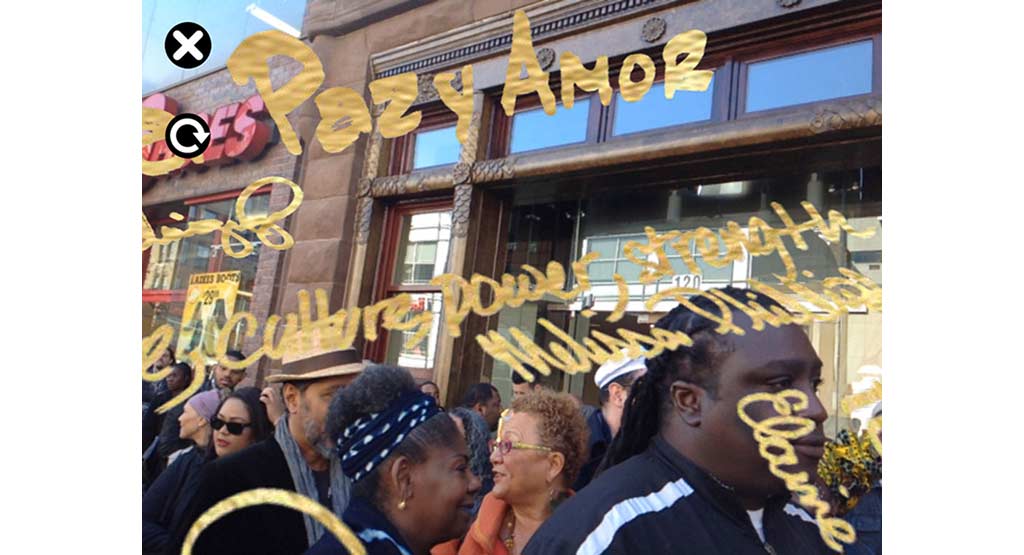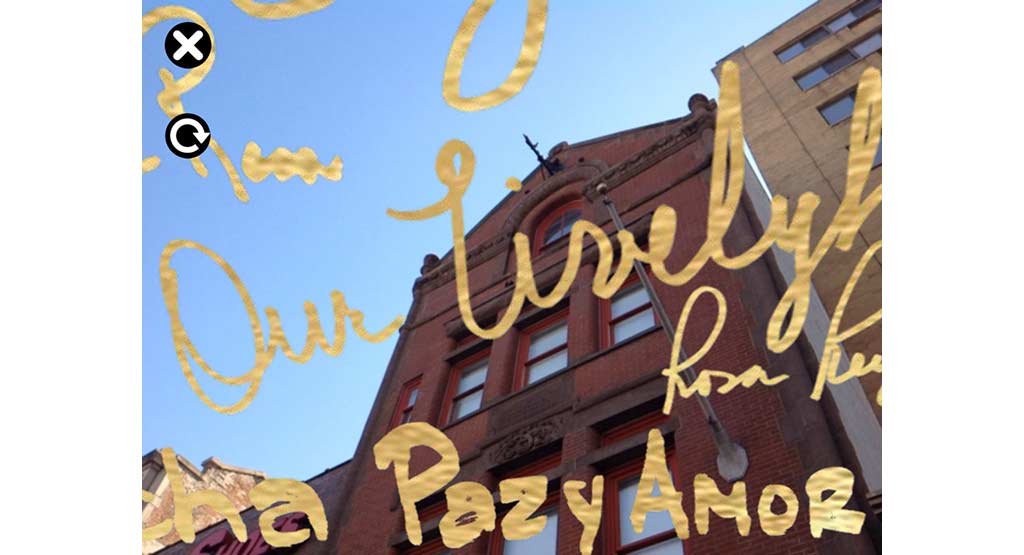 Seattle
Augmented reality Japanese calligraphy project in collaboration with
Midori Kono Thiel
9e2 was an art exhibition and performance series curated by John Boylan to commemorate the 50th anniversary of the legendary exhibit "9 Evenings: Theatre & Engineering.,"
Organized in 1966 by Robert Rauschenberg and Billy Klüver in New York, and featured artist performances in collaboration with engineers from Bell Labs, it sparked a new era of collaboration between artists and technologists. The 9e2 festival embraced that same spirit of experimentation and collaboration with a new series of works that explored the intersection of art, science, and technology.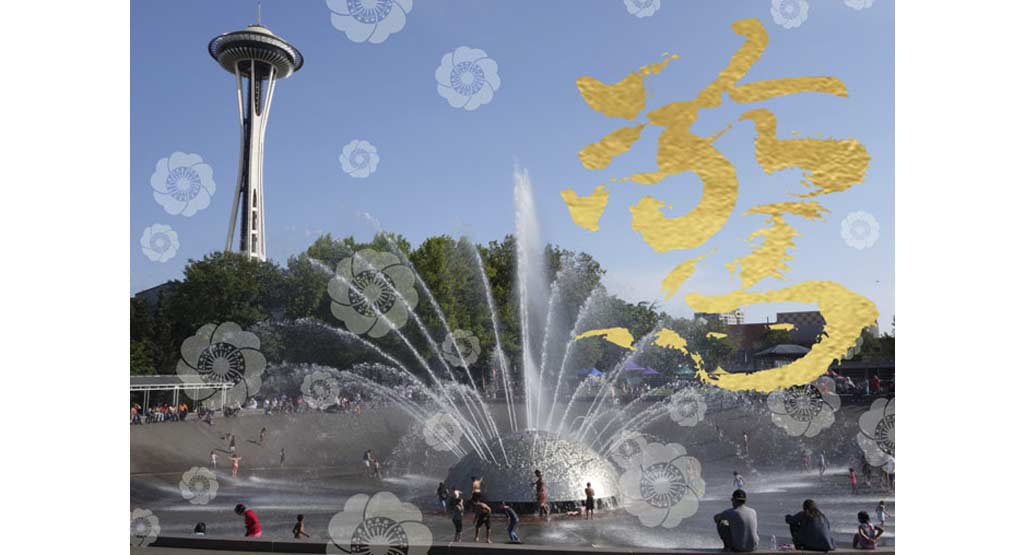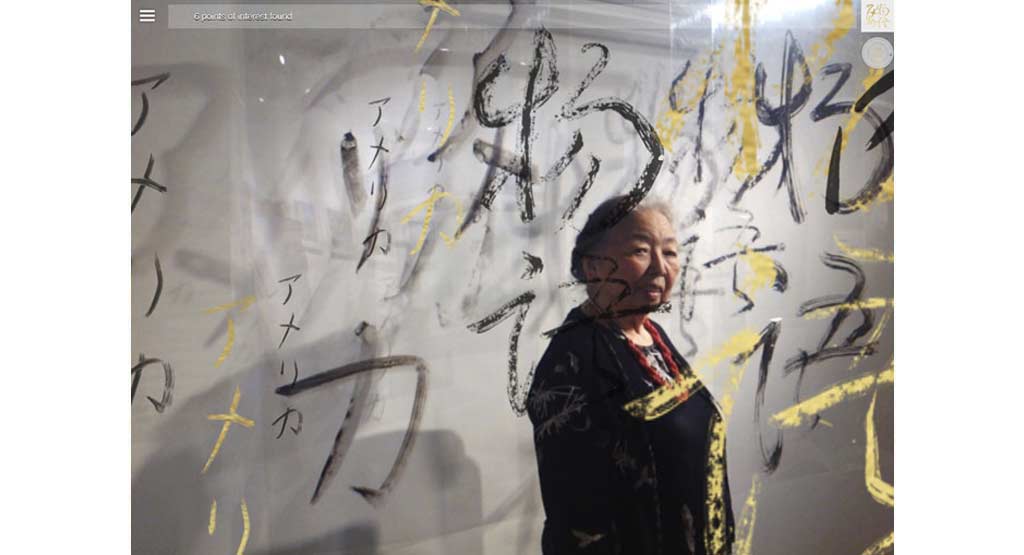 Gardens of the Anthropocene
- augmented reality installation: ONLY viewable June 25 - September 30, 2016
Native plants mutate to survive climate change - and take over the Olympic Sculpture Park. With thanks to UW Professors Josh Lawler and Julian Olden,
Center for Creative Conservation,
for their advice!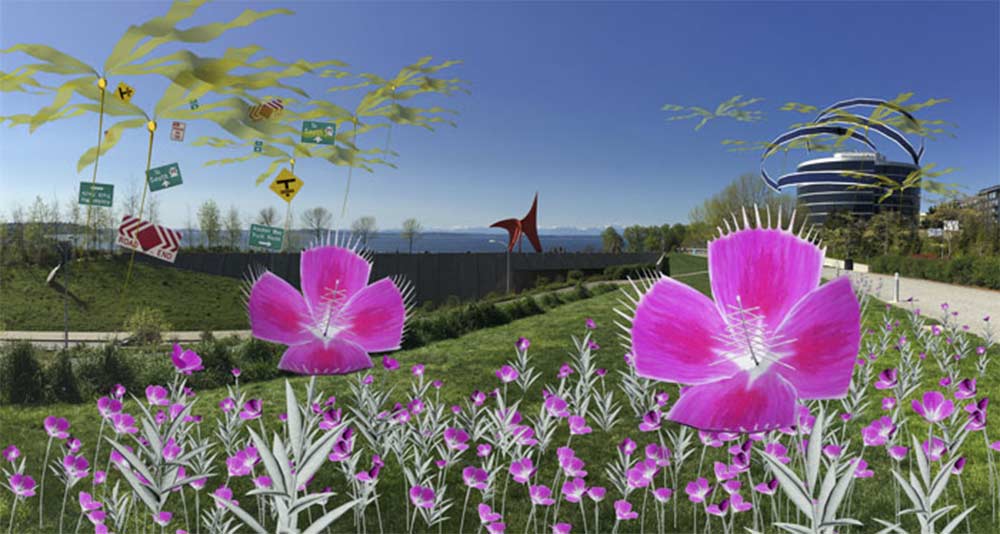 The world's first biennial of virtual art, now in Lugano, Switzerland, is showing
Water Lily Invasion
on Lake Lugano.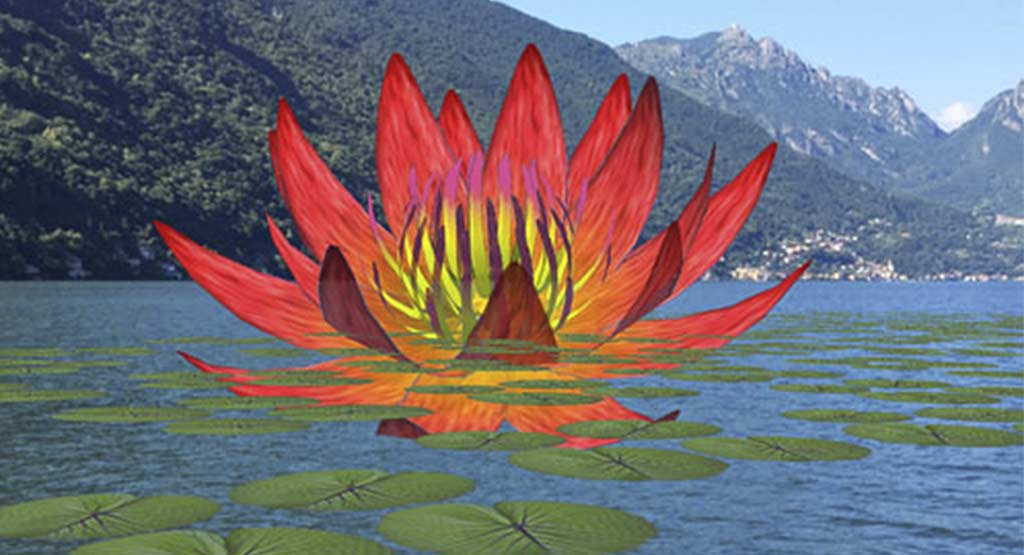 Vienna
Synesthetic video to audio project in collaboration with
Christoph Reiserer
:
Give us your face, and we will transform it into a personal music composition and cubist video portrait.
A multi-media portrait for the Selfie Generation.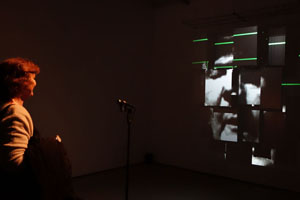 Brush the Sky - 15 May. 2015 - 17 April 2016
Seattle
Augmented reality Japanese calligraphy project in collaboration with
Midori Kono Thiel
CONSTRUCT\S
,
installations by Asian American women artists, curated by Stacey Uradomo-Barre
Wing Luke Museum
of the Asian American Experience (Smithsonian Institution Affiliate Museum)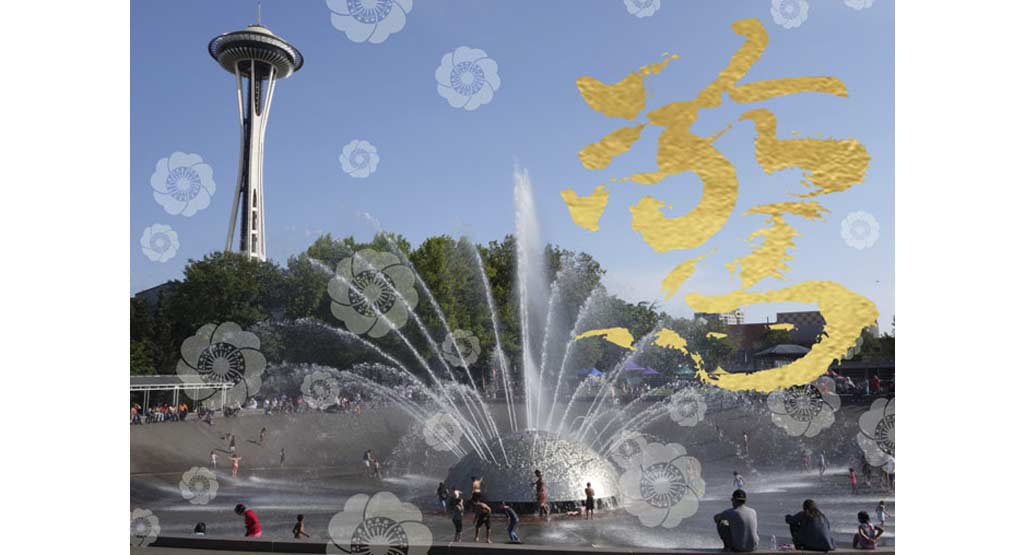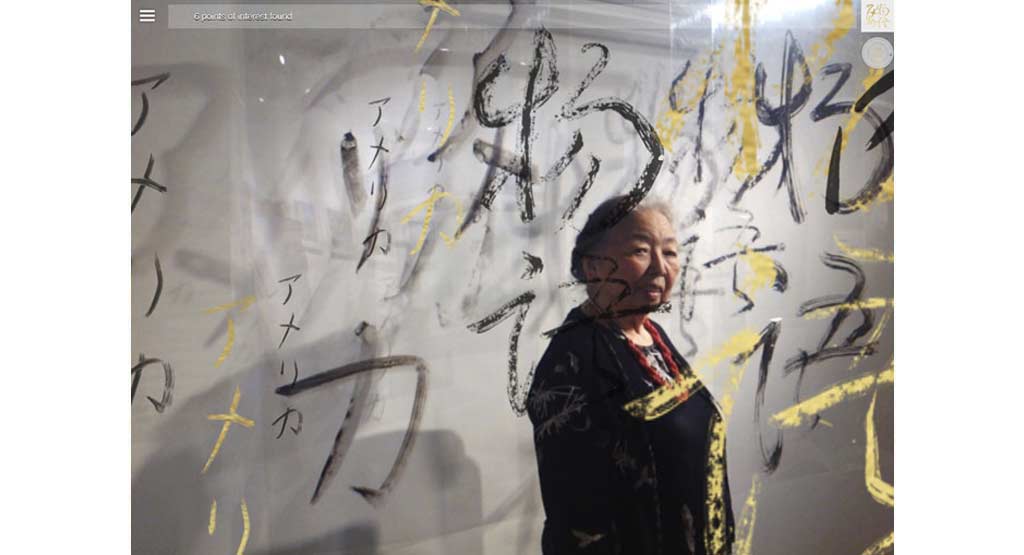 The world's first biennial of virtual art, now opening in Lausanne, Switzerland!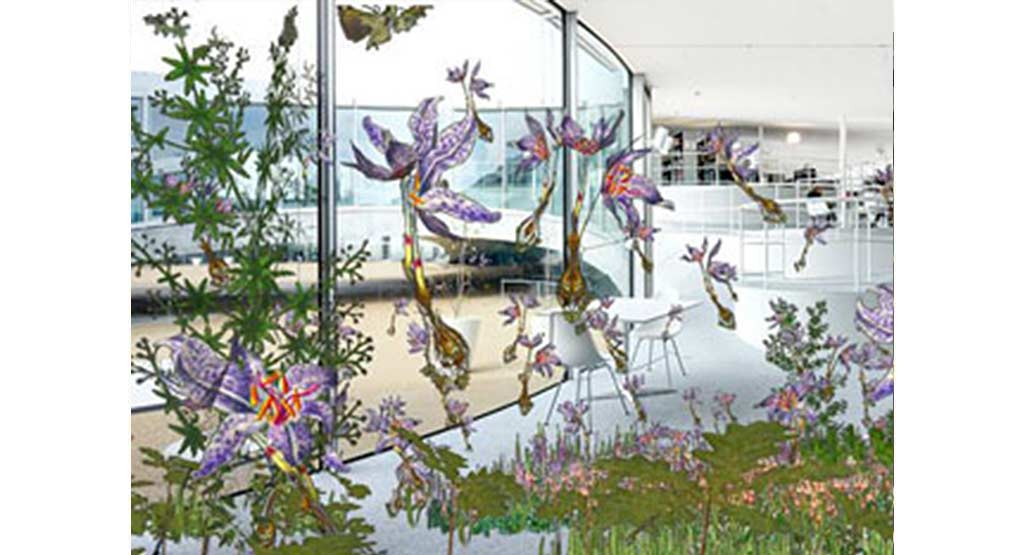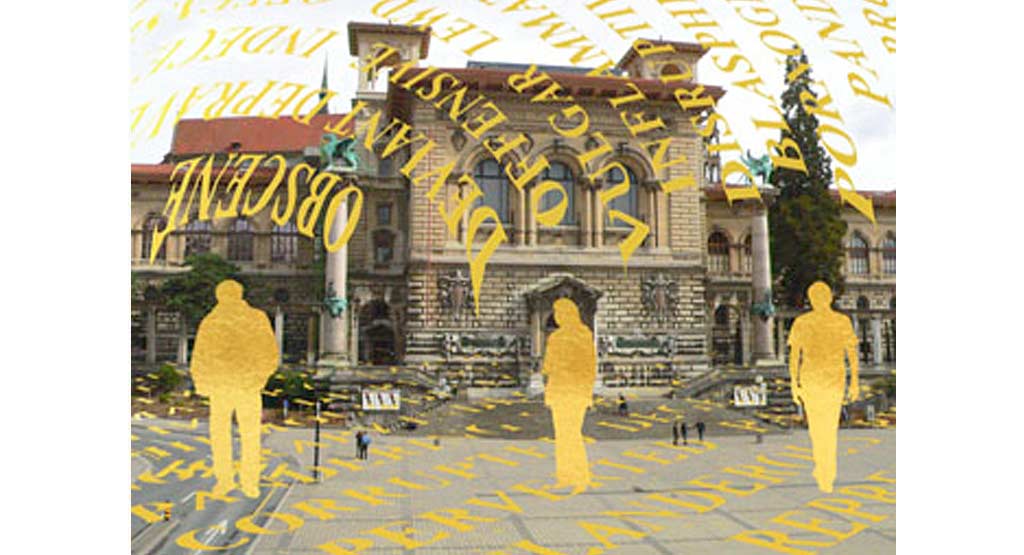 Goldsegen/Golden Blessings SG50 - How much do you need to be happy?
Singapore
A participatory art project for Chinese New Year, and for Singapore's 50th anniversary.
6 February – 16 March 2015
ADM Faculty Show 2015: Beyond the Horizon
ADM Gallery, School of Art, Design and Media (ADM)
Nanyang Technological University, Singapore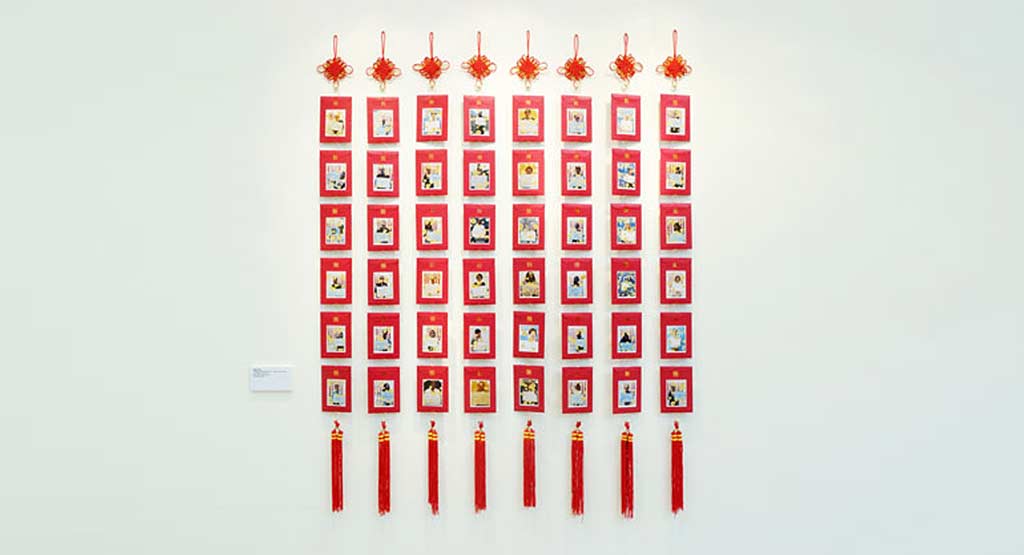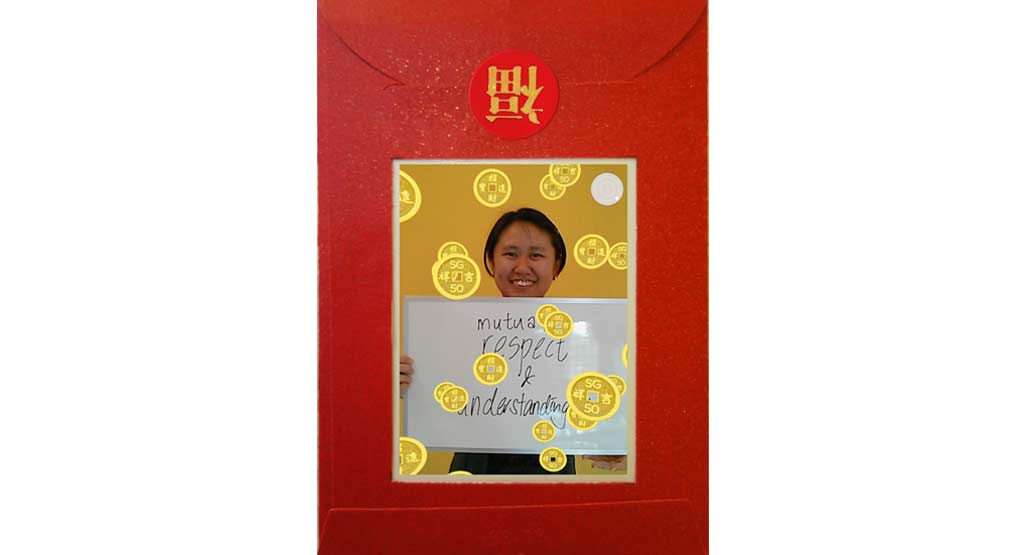 25th Anniversary of the Fall of the Berlin Wall
"Virtuelle Mauer/ReConstructing the Wall" interactive virtual reality installation, Tamiko Thiel & Teresa Reuter
www.virtuelle-mauer-berlin.de
Boston: November 2014
Northeastern University: Exhibition with opening speeches by German Consul General Rolf Schuette and NEU Dean Ute Poiger; Keynote speech by Tamiko Thiel and Teresa Reuter. Symposium with professors from NEU and the artists. Organized by Prof. Natalie Bormann.
Bentley University: Exhibition with opening speech by German Consul General Rolf Schuette.
Organized by Professor Johannes Eijmberts.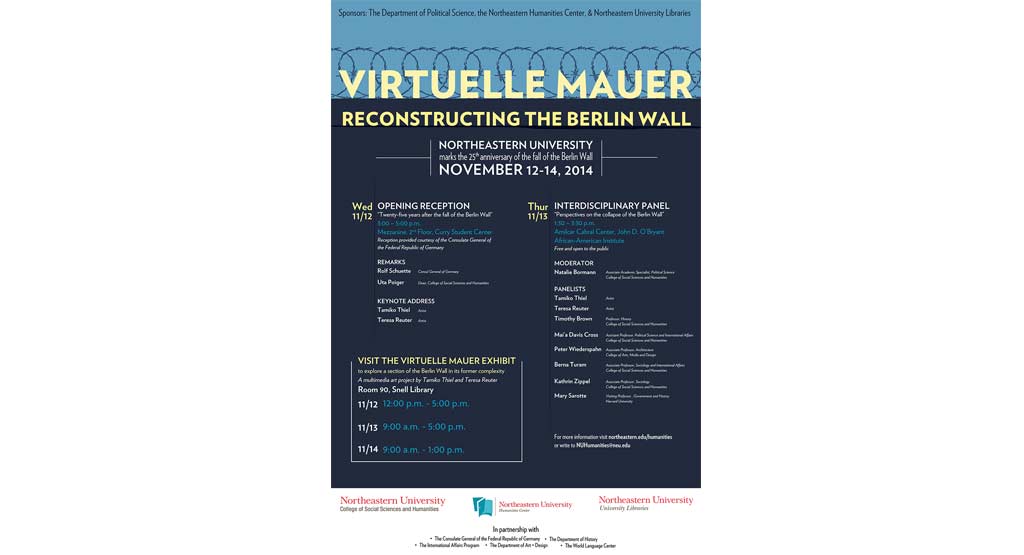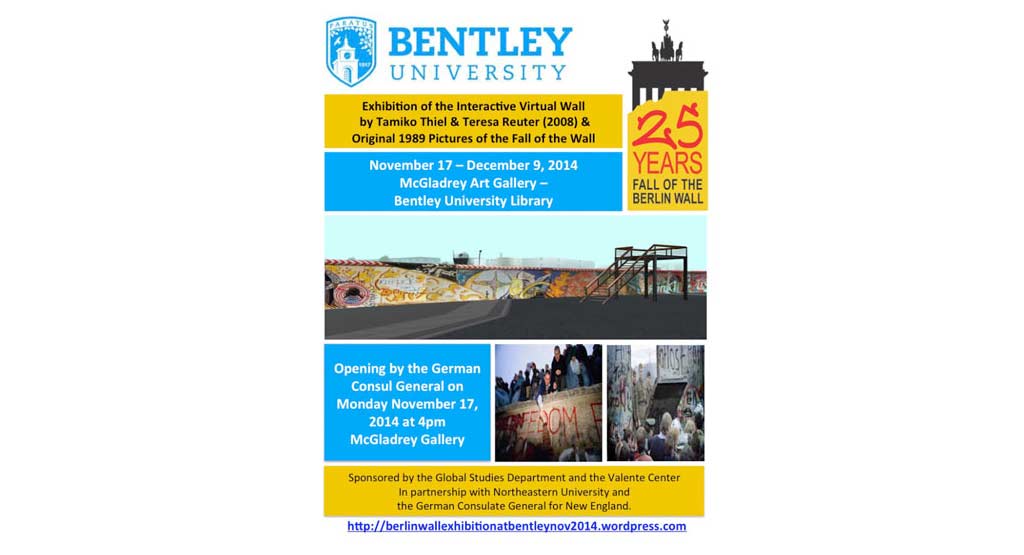 Berlin: August 2014
ZeitLabor (Teresa Reuter & Sabe Wunsch) in Berolina, Neue Jakobstr. 30, 10179 Berlin,
Exhibition of the interactive 3D installation, workshops with contemporary witnesses and on site tours about the former Berlin Wall.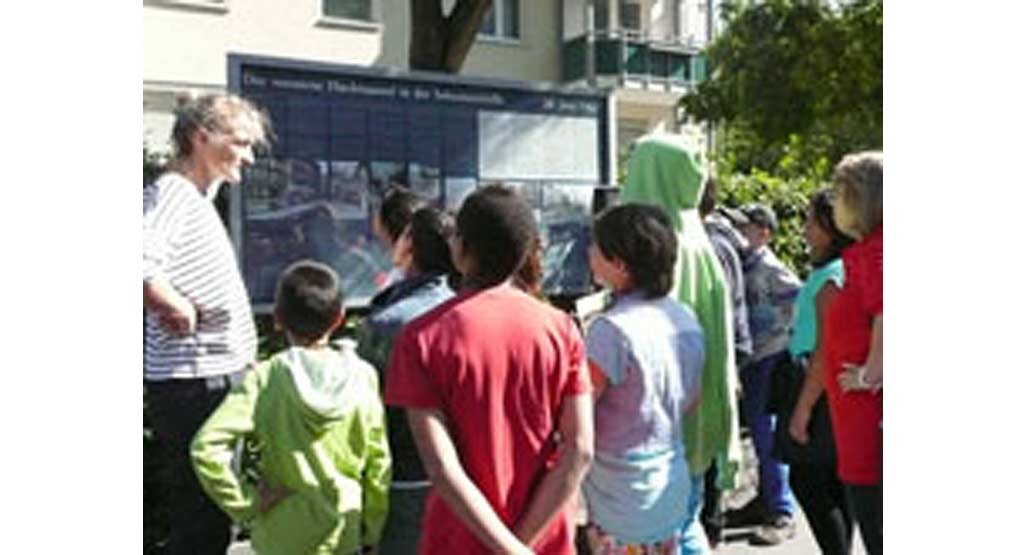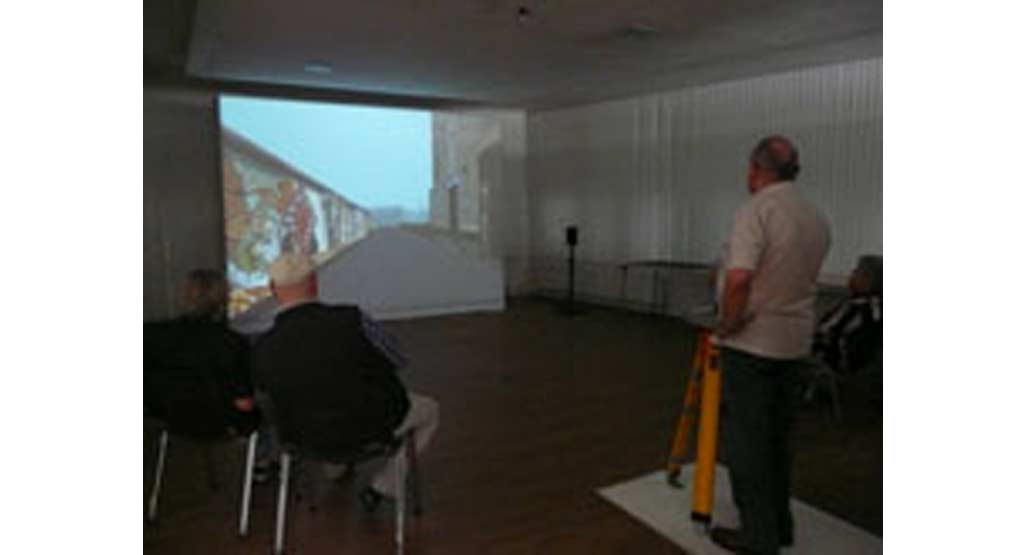 ISEA Dubai Festival - Oct. 30 - Nov. 8, 2014
Biomer Skelters
(with Will Pappenheimer)
A participatory public artwork connecting body rhythms to potential ecosystems, Biomer Skelters asks participants to choose between being Indigenators protecting native biomes, or Exoticators propagating biome shifts due to global warming. Shown in the textile souk of Dubai's Old Town, plus other locations around Dubai and Sharjah, UAE. Biomer Skelters was a FACT Liverpool commission for a bio-sensor driven augmented reality artwork.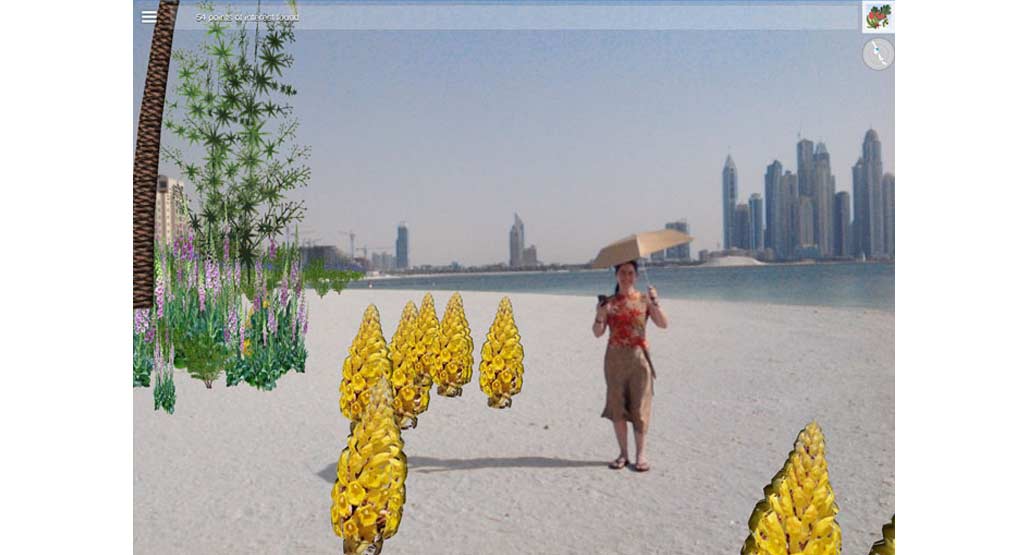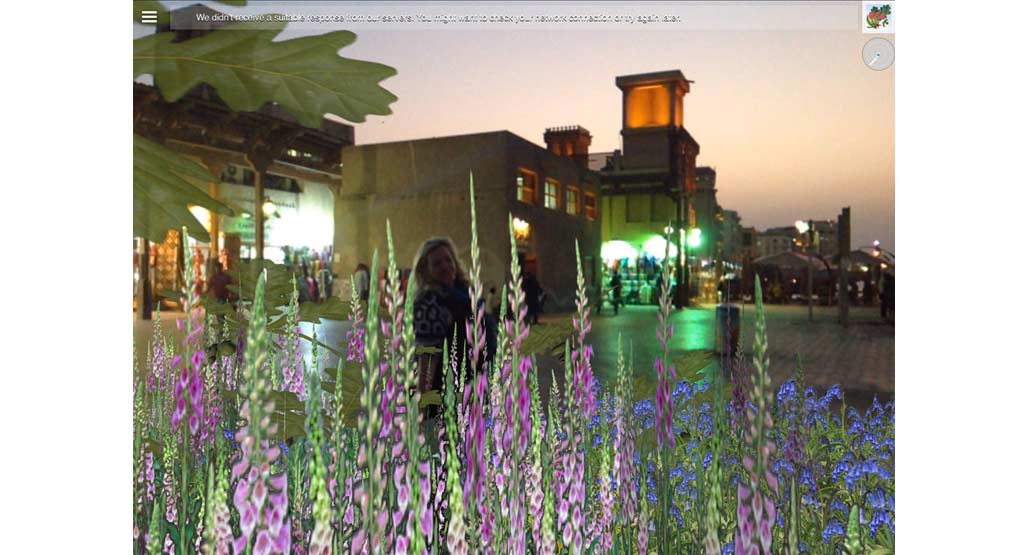 Munich: Oct 6 - 10, 2014
Goldsegen
How much do you need to be happy?
A project on consumerism and the promise of happiness.
Part of the public art project
Das Rätsel des Überflüssigen
(Conundrum of the Superfluous ) by Serafine Lindemann | artcircolo.
With pilotraum01 e.V., GCN and DantonDenkRaum, for
Klimaherbst München 2014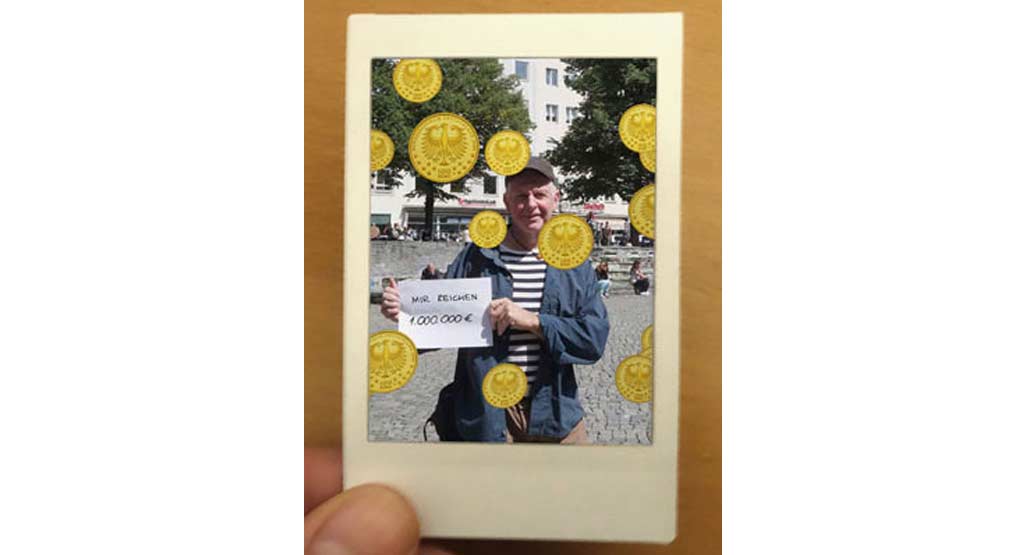 London: MERGE Festival - Sept. 25 - Oct. 31, 2014
Fractured Visions: To See Again
An augmented reality installation on the fragility of human vision. Inspired by palinopsia, a rare visual disorder, two site-specific installations question our perceptions of reality.
Dr. Dominic ffytche:
Working with Tamiko Thiel has helped crystalise what ... we do not know. ... This realisation, that much of the key evidence
required to understand palinopsia is missing, was an unexpected outcome of the collaboration and what I have taken away is a fresh outlook on palinopisa together with new ideas on how to progress research in this area.
Commissioned by the AXNS Curatorial Collective, in collaboration with Dr. Dominic ffytche, King's College London. Supported by Art Council England, the Wellcome Trust, King's College London and the
MERGE Festival
...
See
AXNS Fractured Visions website
for viewing instructions, video and catalog.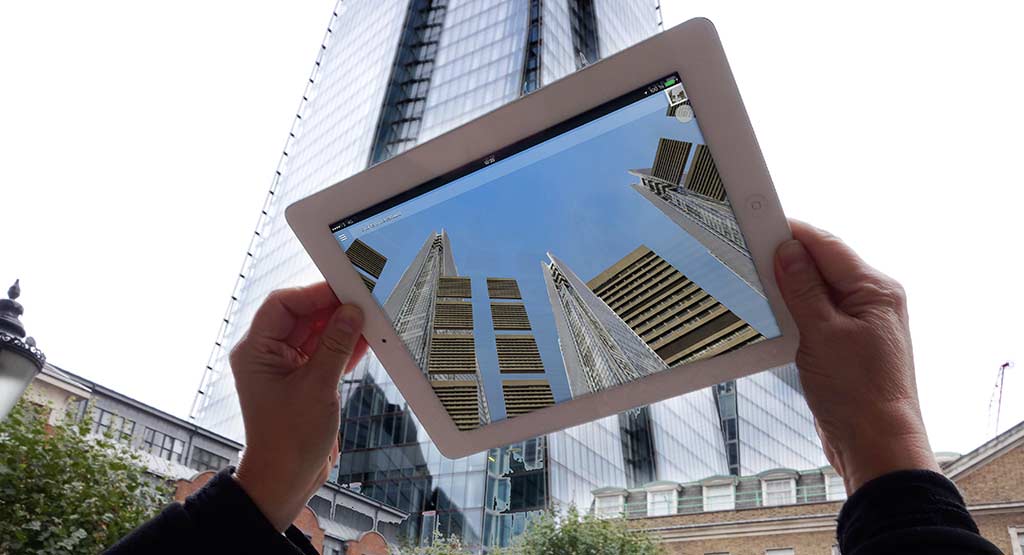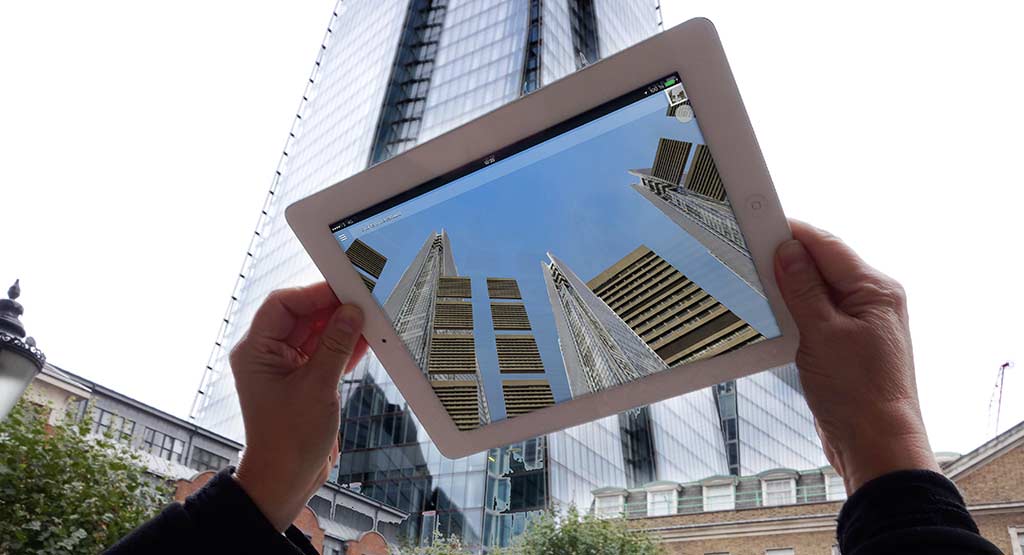 Basel: Virtuale Switzerland - First Biennial of Virtual Art, June 18 - September 28, 2014
Official Parallel Project to Art Basel, with support from Pro Helvetia Swiss Art Councial and the City-State of Basel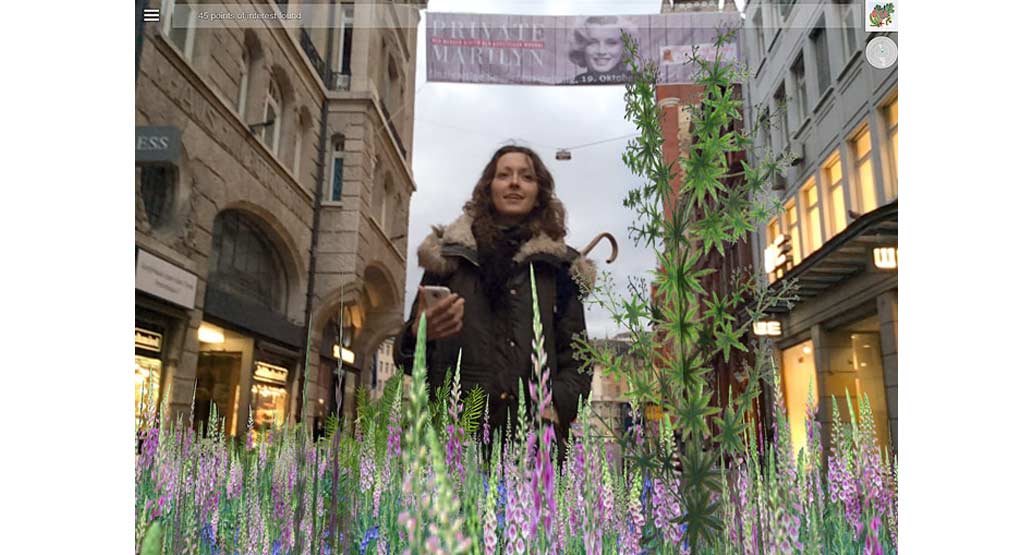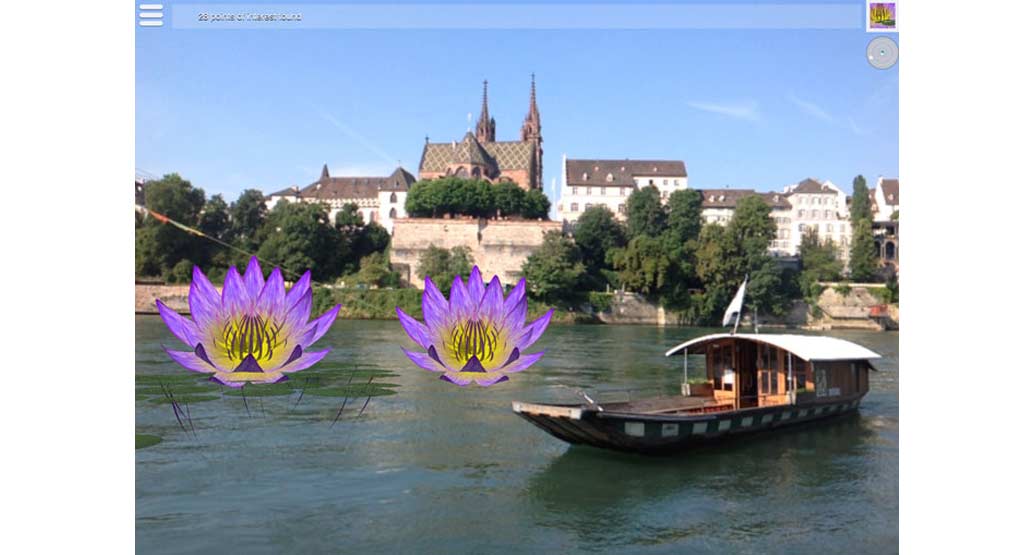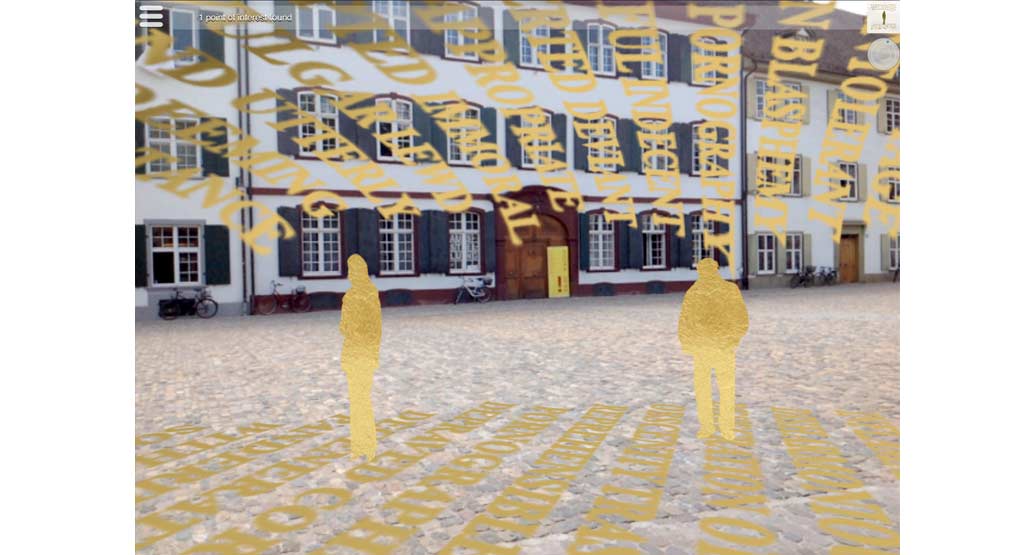 Jan 17-20 2014 @ UNPAINTED Media Art Fair Munich
Transformation: Munich (Lehel)
Presented by pilotraum01 e.V., curators Serafine Lindemann (artcircolo) and Christian Schoen (kunst | konzepte) Many thanks to the Department of Arts and Culture of the Bavarian State
Capital City Munich and to
LAYAR
for sponsorship for this event!
More information: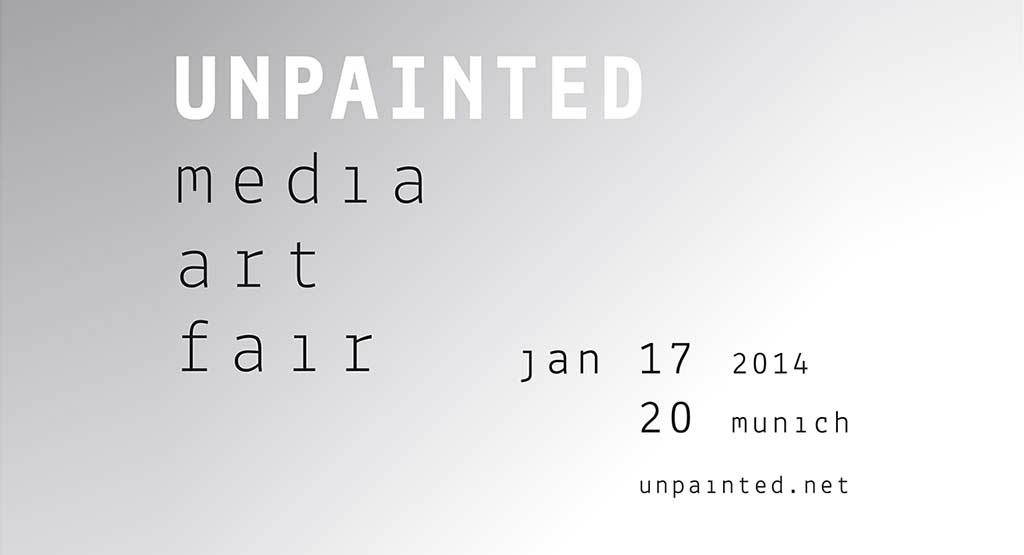 Corcoran Gallery of ARt / Corcoran College of ARt and Design
August 14 - September 1, 2013: Manifest:AR - invitational exhibit
August 31st, 2013: Panel discussion and reception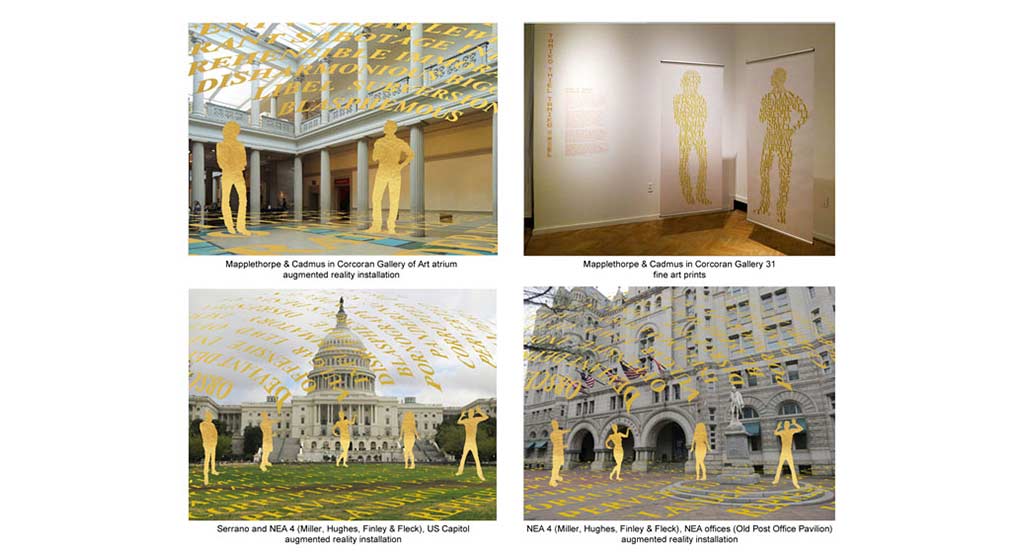 The 4th work in the Shades of Absence work series, Governing Bodies is a monument to artists censored due to pressure from high U.S. government officials. Fine art prints of silhouettes of Robert Mapplethorpe and Paul Cadmus - formed out of terms of censorship - were exhibited in the Corcoran Gallery 31. The augmented reality work includes artists such as the NEA 4 and Andres Serrano, and is geolocated permanently in the Corcoran Gallery of Art, the U.S. Capitol Building and the National Endowment for the Arts offices in the Old Post Office Pavilion.
Biomer Skelters - biosensor driven city-wide augmented reality public artwork (with Will Pappenheimer.)
Manifesting internal biorythms as external wild growth reforestation, this crowd sourced urban artwork transforms participants into virtual biome propagators.
June 14th - September 15th, 2013
Part of the Manifest.AR exhibit
Invisible ARtaffects
.
A
FACT Liverpool commission
for their 10th anniversary exhibition
Turning FACT Inside Out
.
In collaboration with
Liverpool John Moores University
and the
World Museum Liverpool
.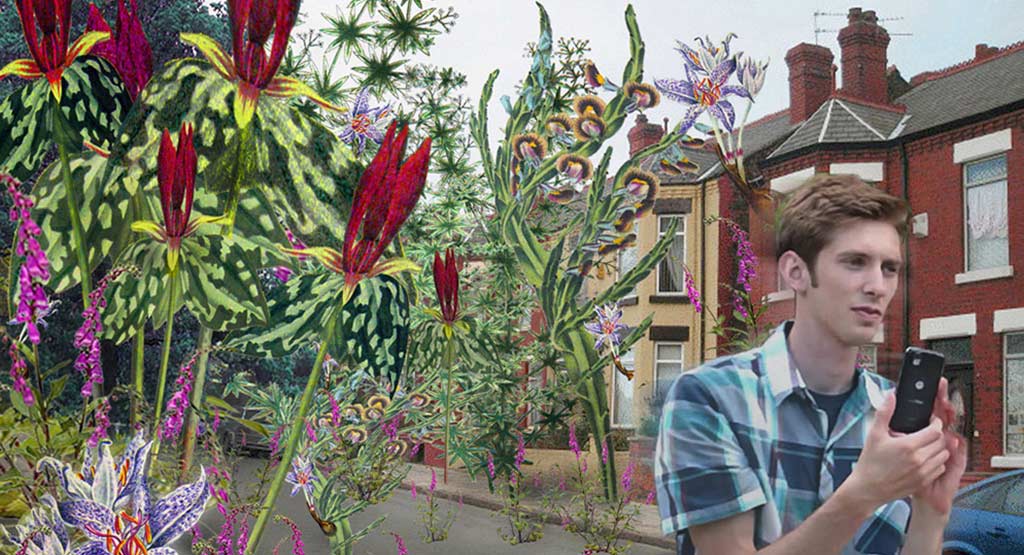 Three of my artworks are showing in Singapore for the Digital Art Weeks, curator Art Clay
Click here for more on the artworks shown below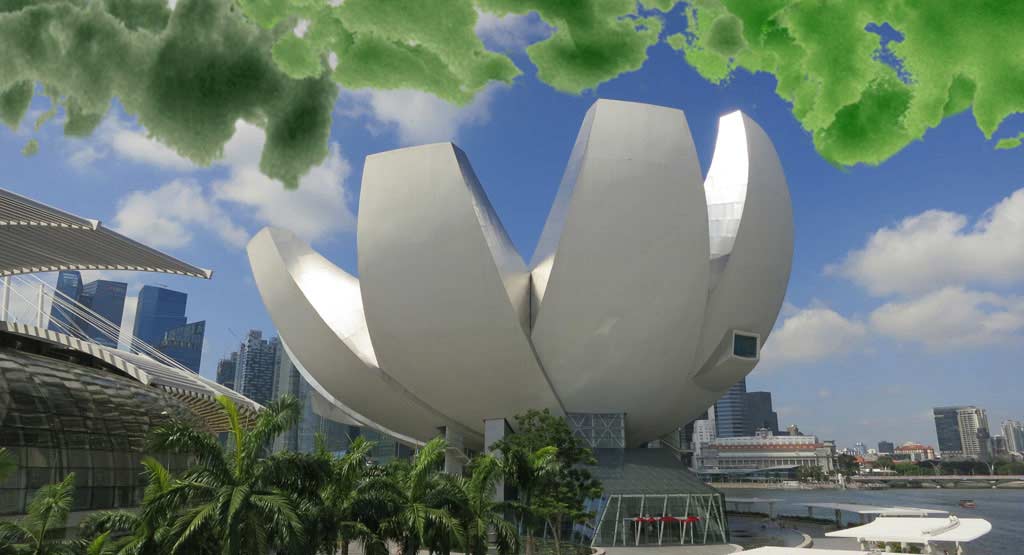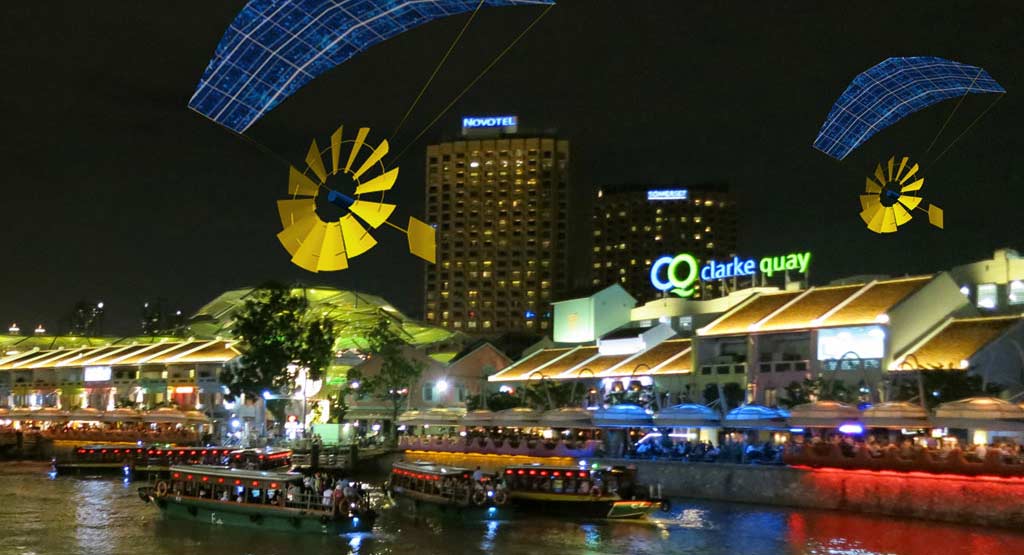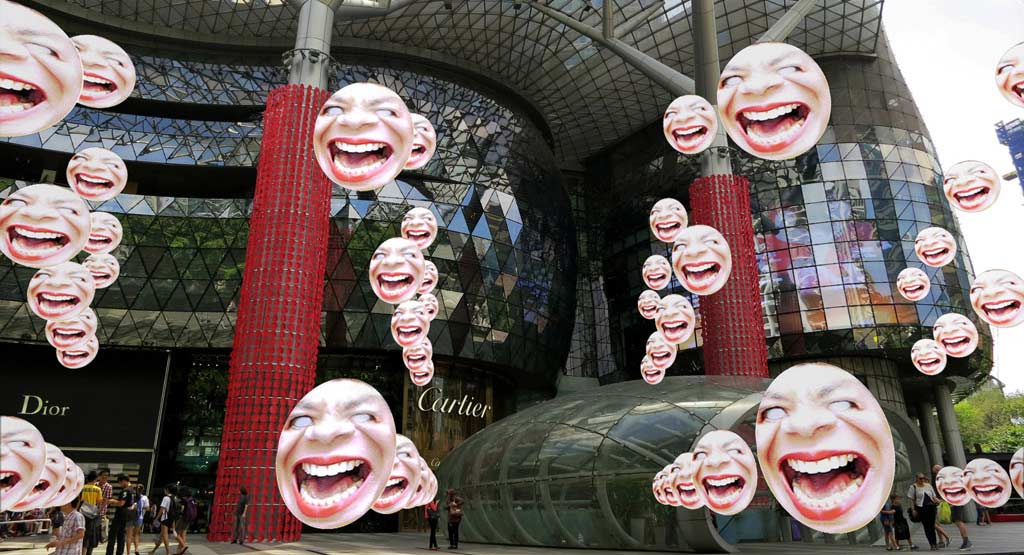 4 channel video (music by Gerd Kötter) and augmented reality installation, St. Lukas Church Munich (Lehel).
An art project
on possible realities for urban life in the future. Part of "
overtures ZeitRäume
," a project series by pilotraum01 e.V. curated by Serafine Lindemann / artcircolo and Christian Schoen / kunst | konzepte, in cooperation with the St. Lukas Church Munich, Pastor Beate Frankenberger, and the citizens of the Lehel neighborhood in Munich.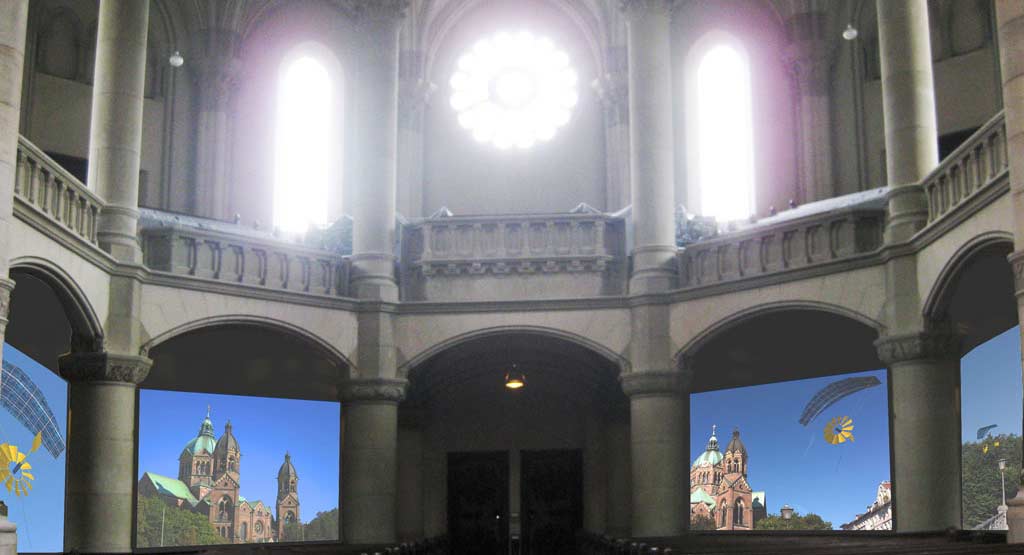 # Presented by the
Samek Art Gallery/Bucknell University
and
ZERO1 Biennial 2012
Manifest.AR was commissioned by the Samek Art Gallery of Bucknell University and by Zero1 itself to create new works for the Zero1 Biennial, Silicon Valley, USA. I showed two new works,
Clouding Green
and
Fortune 500 Cookies
, and have placed the
ARt Critic Face Matrix
in the San Jose Museum of Art and San Francisco Museum of Modern Art.
Please click
here for an overview of my works for Zero1.
Click on an image below for an individual project.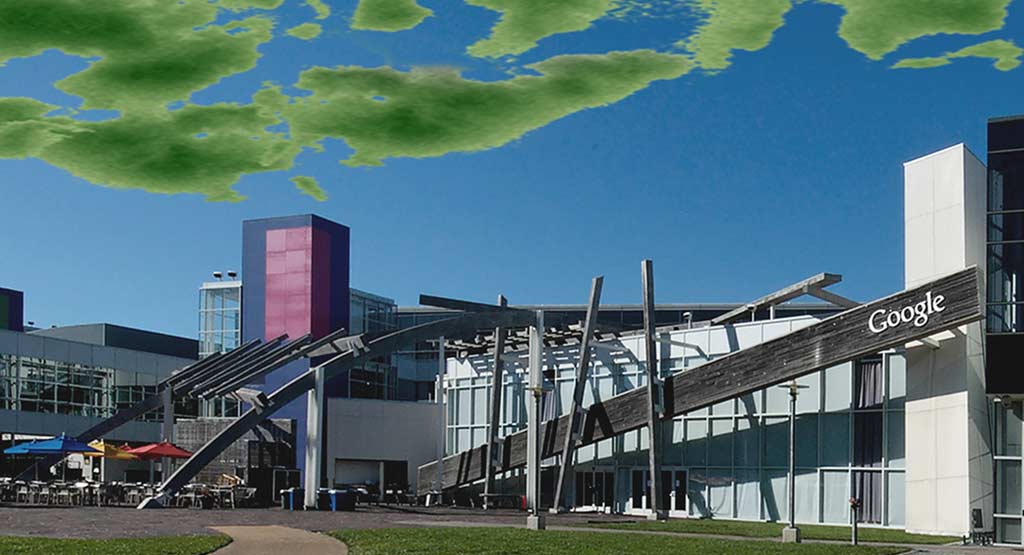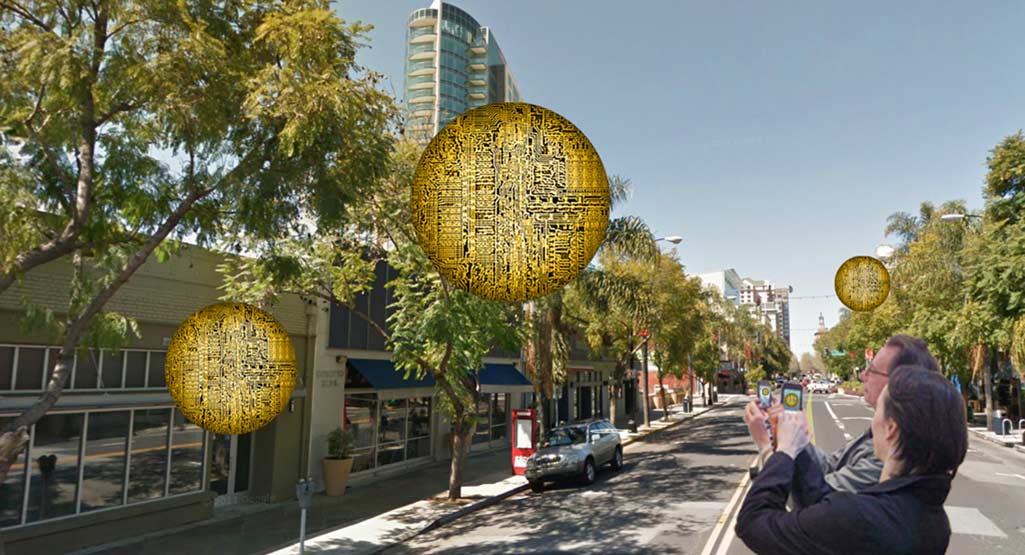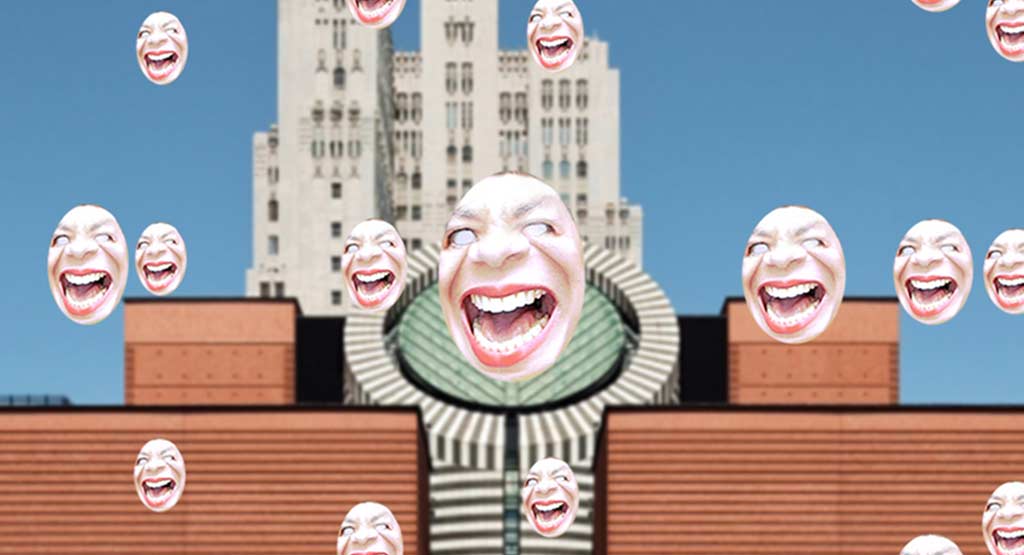 <
When I Dream @ Art Gwangju
augmented reality installation, 2012
Presented by
The Art Syn Projects
(London):
When I Dream was shown by
The Art Syn Projects
(London)
as part of its exhibit
Fragmented Identity
@
Art Gwangju
, Korea
Sept. 5-9, 2012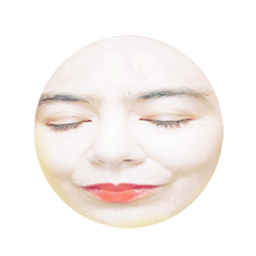 ARt Critic Face Matrix in No.Need.For:Real? @ Triennale di Milano, 2012
Opening event Sept. 2 2012 for the
VSMM
conference at the
Triennale di Milano
, Italy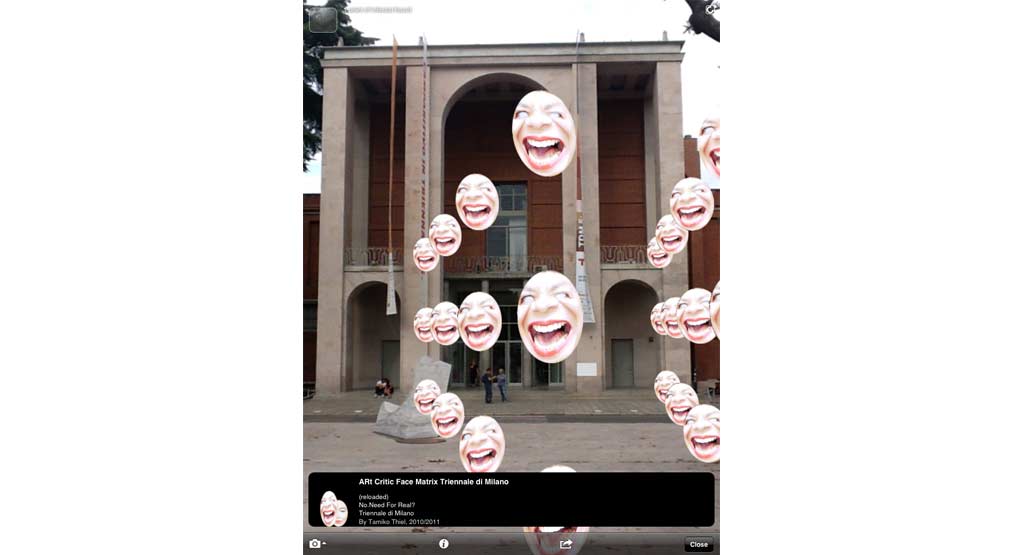 To Question is GOLD - augmented reality installation, 2012
Part of the Manifest.AR show at the

Nikolaj Kunsthal
for the
2012 Copenhagen Art Festival
, August 24th - October 21st, 2012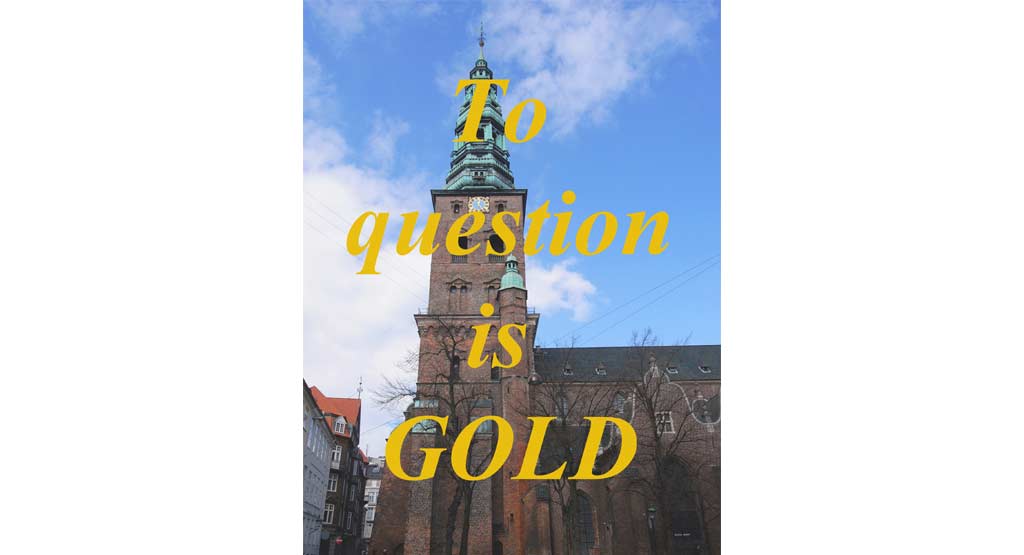 How the critics reacted to this AR intervention into Damien Hirst's retrospective at the Tate Modern:
Fascinating
- Rosie Millard, author of
The Tastemakers (Why Britain fell in love with Damien Hirst)
I liked it alot - many thanks
- Julian Spalding, author of
Con Art: Why you should sell your Damien Hirsts while you can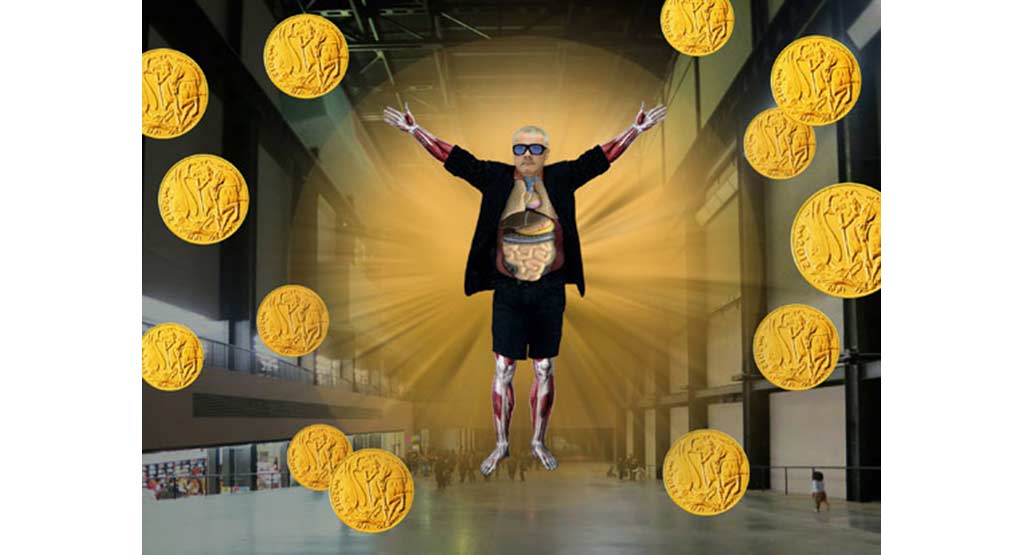 Transmediale 2012: an in/compatible incident
The director of the Transmediale, celebrating 25 years of interventionist art, speaks of offensive AR art and makes it clear he does not want it at his festival. How should an artist react? With an AR intervention, of course ...
More >>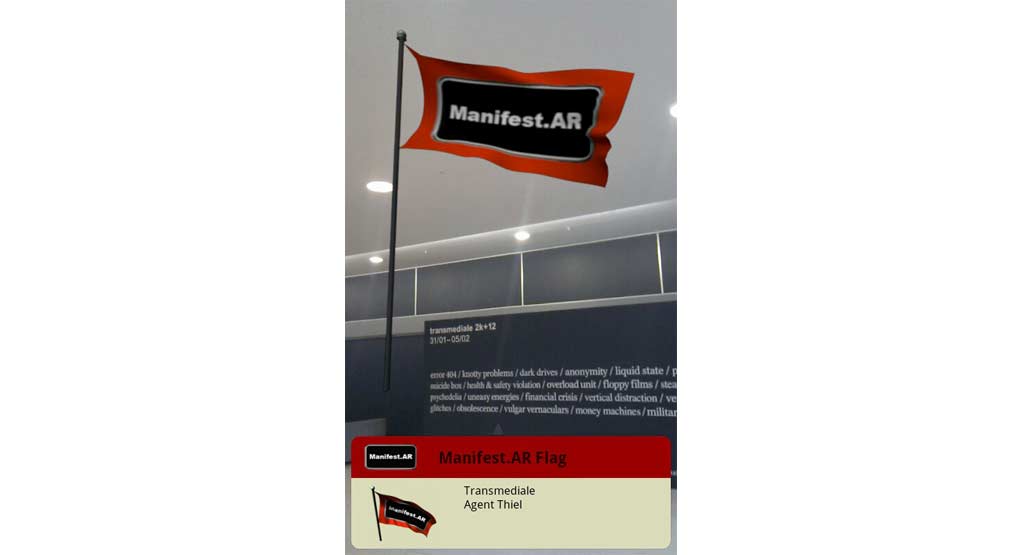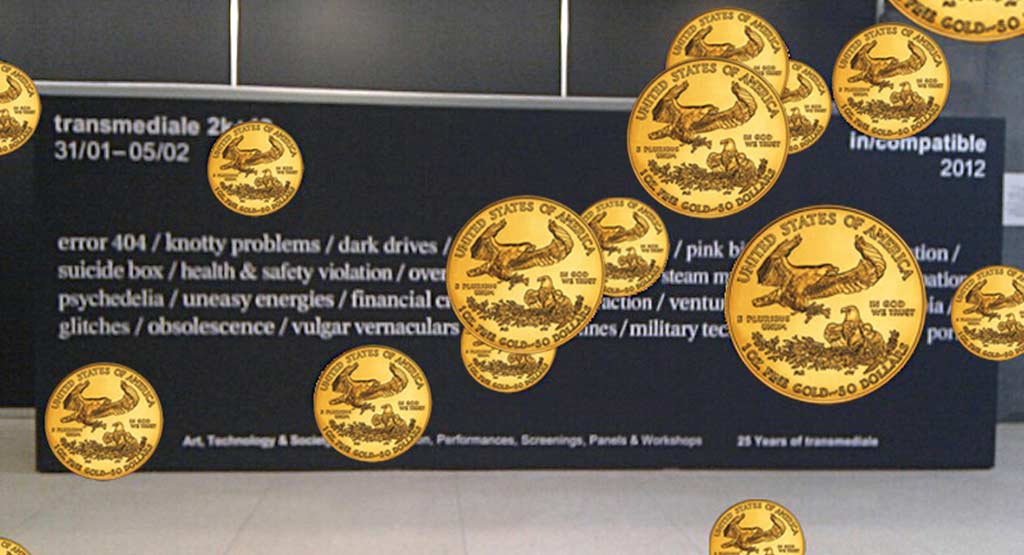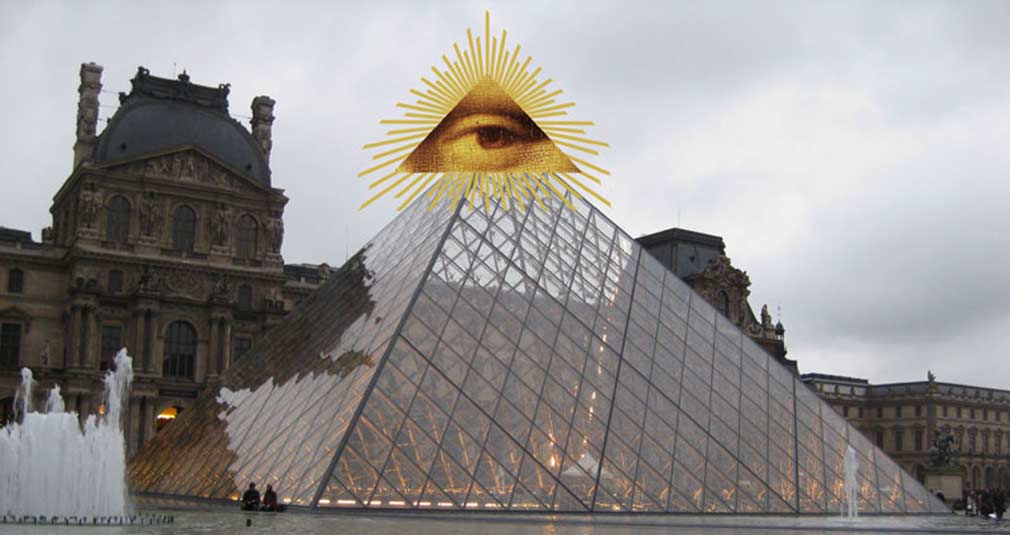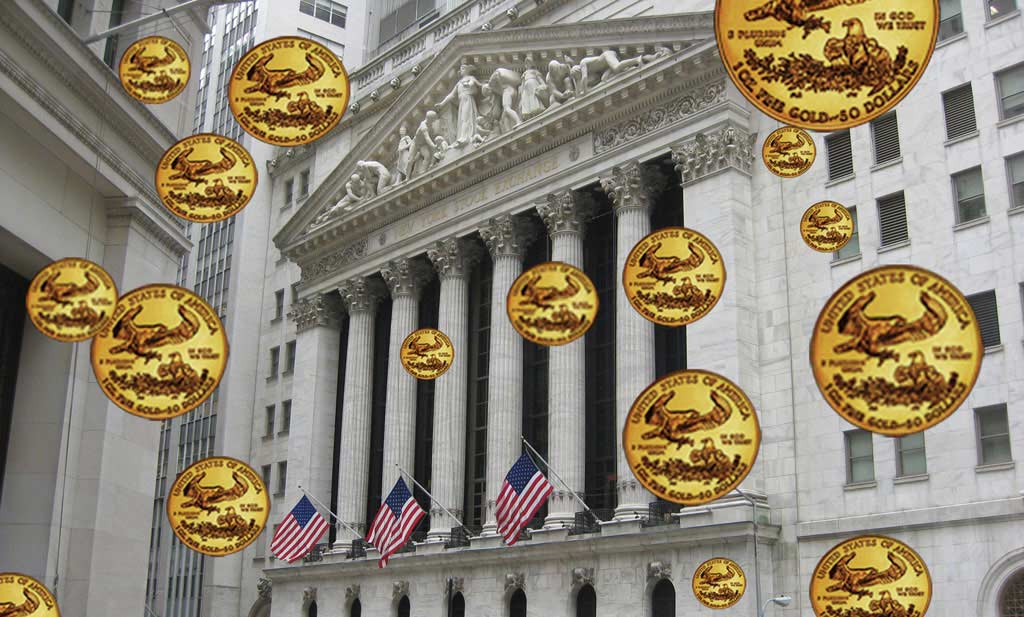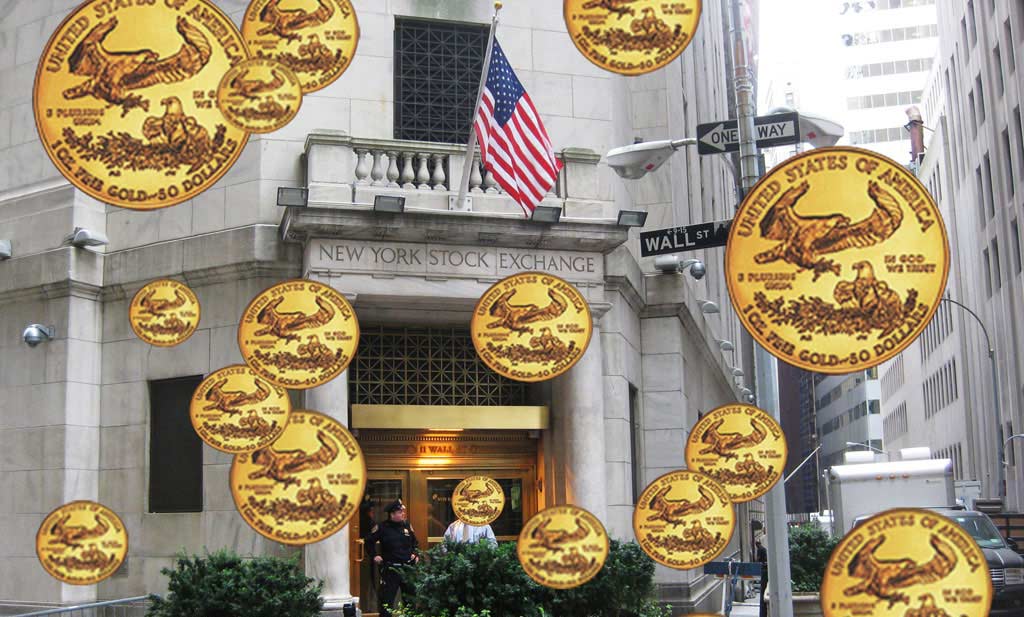 DUMBO Arts Festival, Brooklyn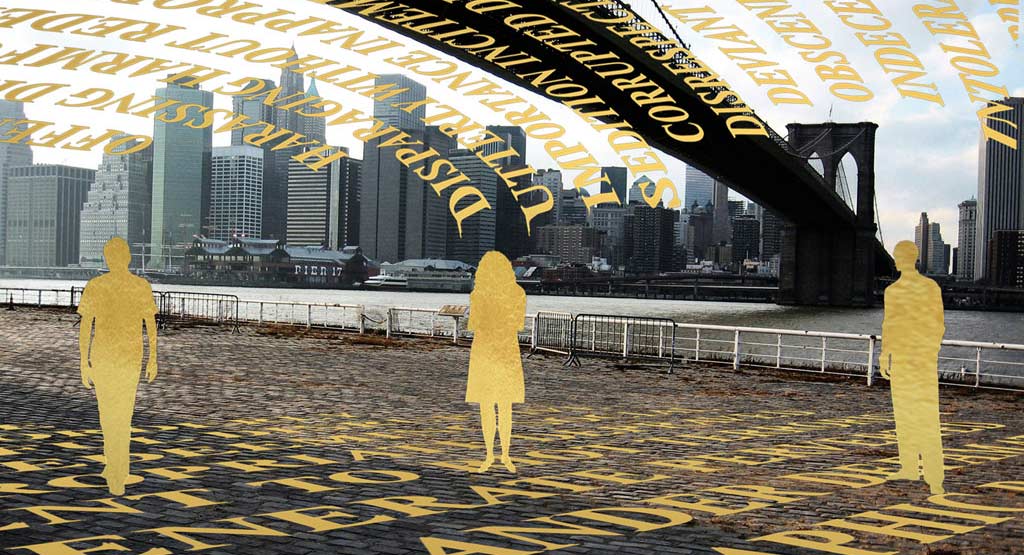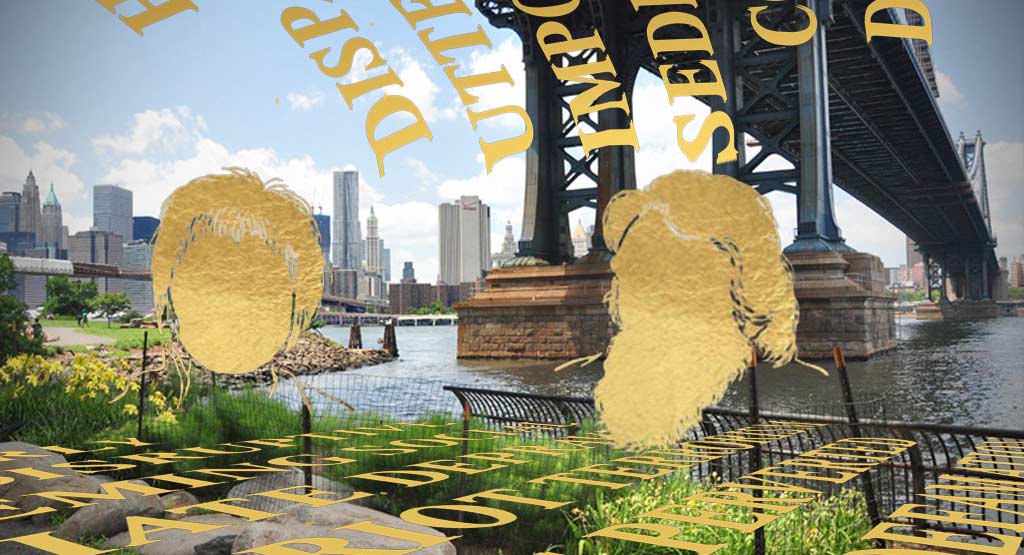 ISEA2011 UNCONTAINABLE
Official Parallel Program to the ISTANBUL BIENNIAL
AR Intervention in the
Istanbul Biennial
in cooperation with
PATTU
Istanbul
[ See this link for documentation of my work series
Captured Images
]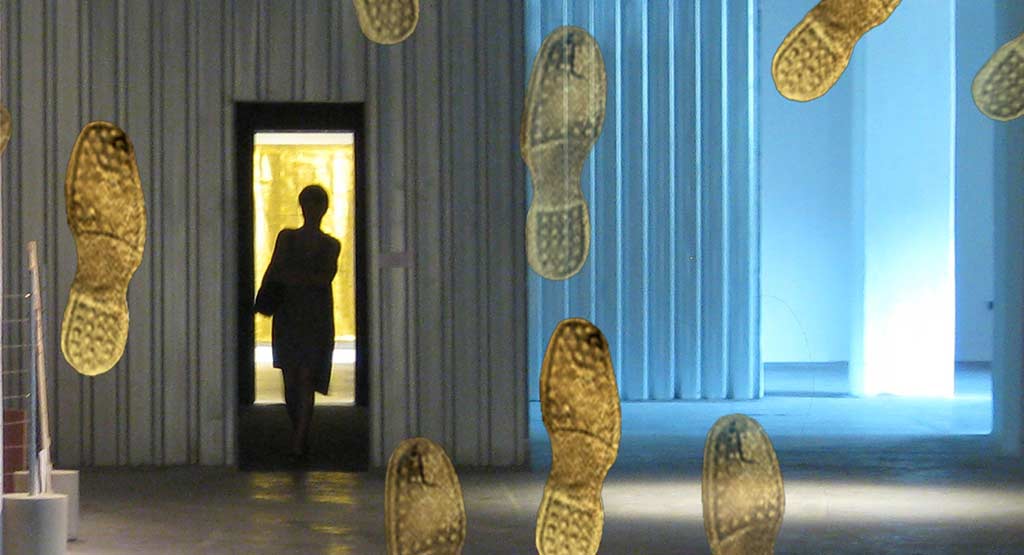 Kasa Gallery, Sabanci University, Artworks from the Manifest.AR, Venice Biennial 2011 Intervention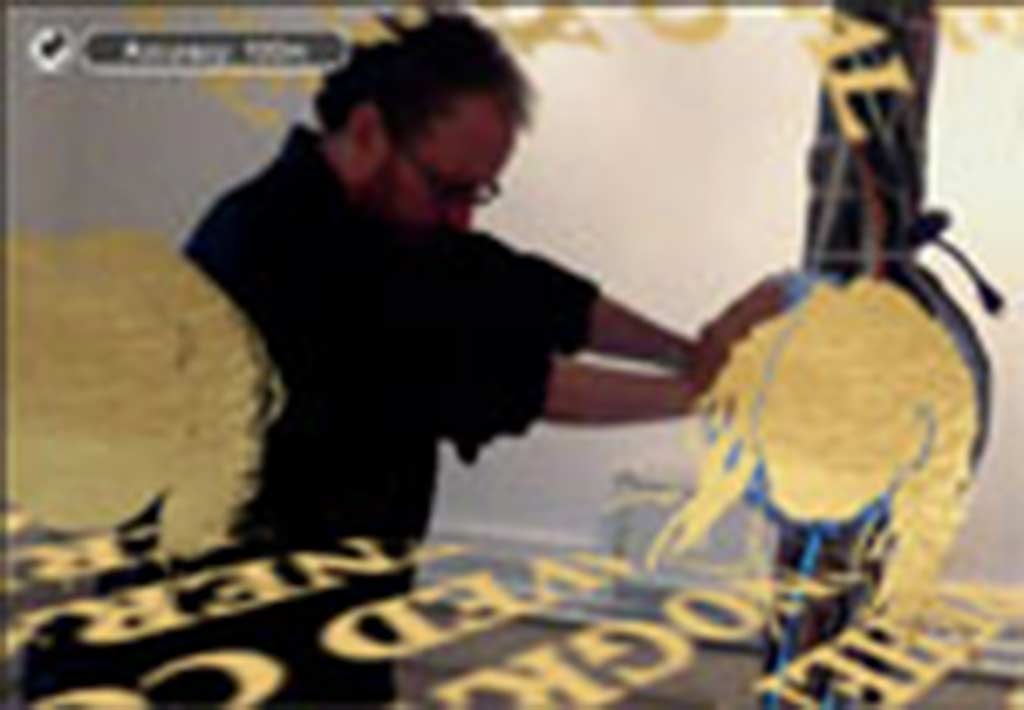 [
further venues
]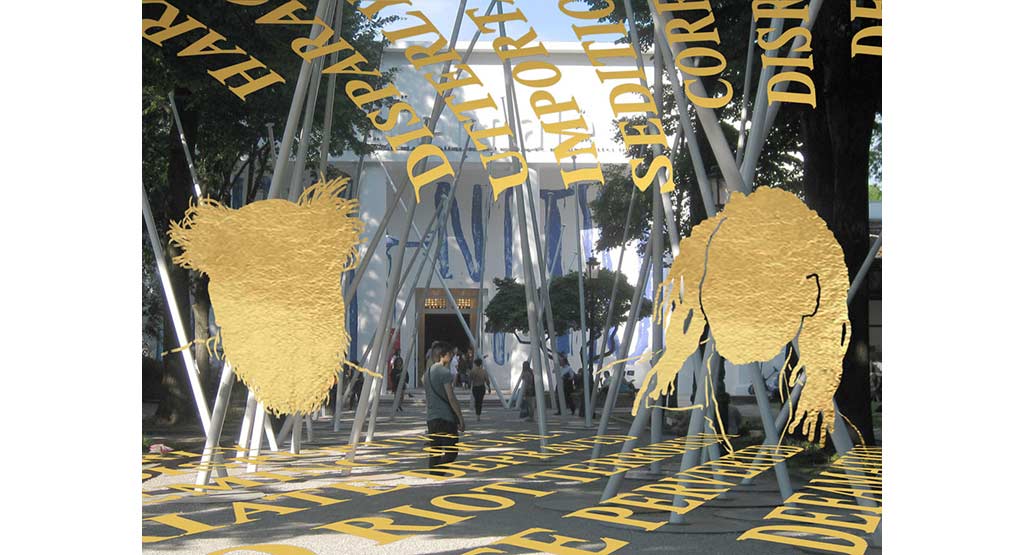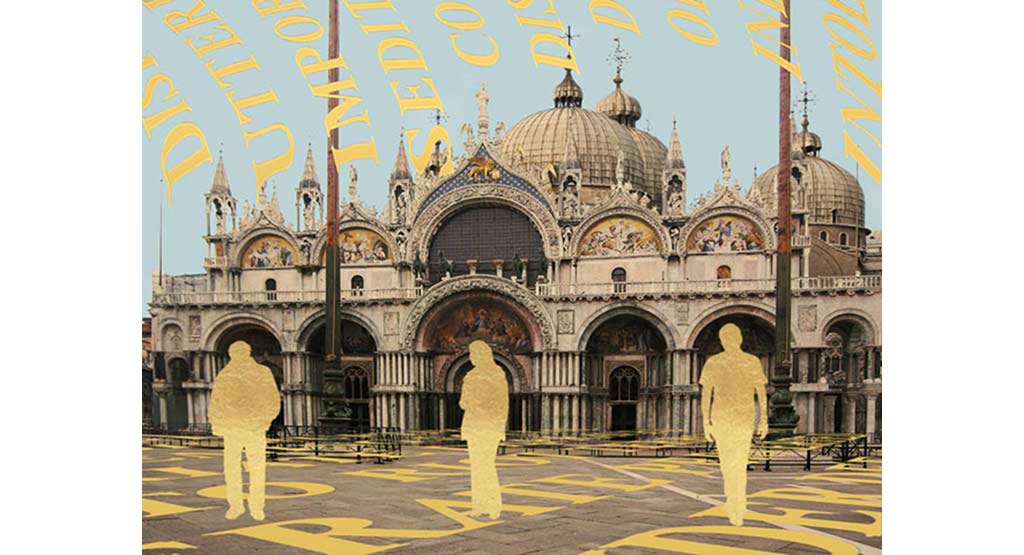 Jasmine Rain (birdcage) - augmented reality installation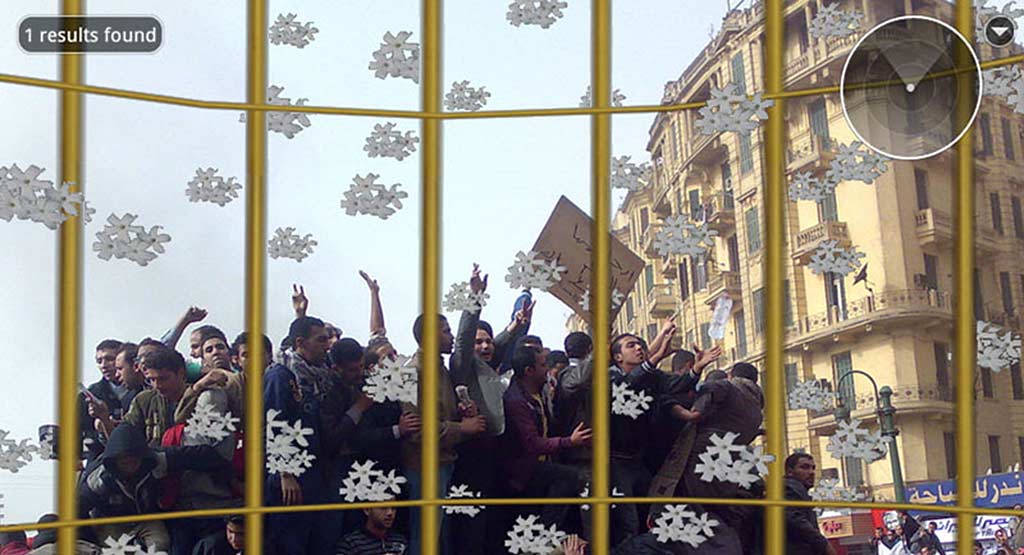 Carnation Rain (Largo do Carmo) - augmented reality installation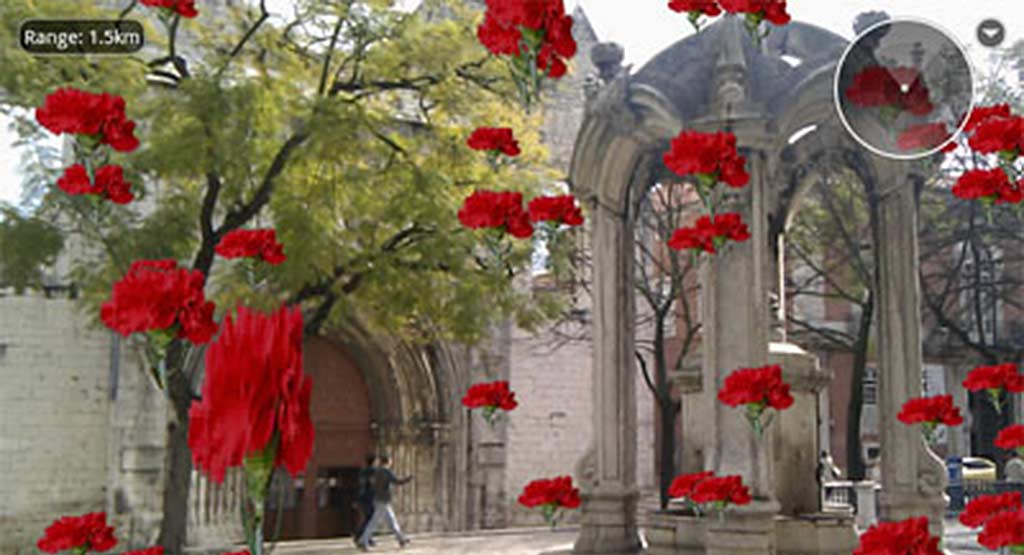 AR interventions in Brooklyn, New York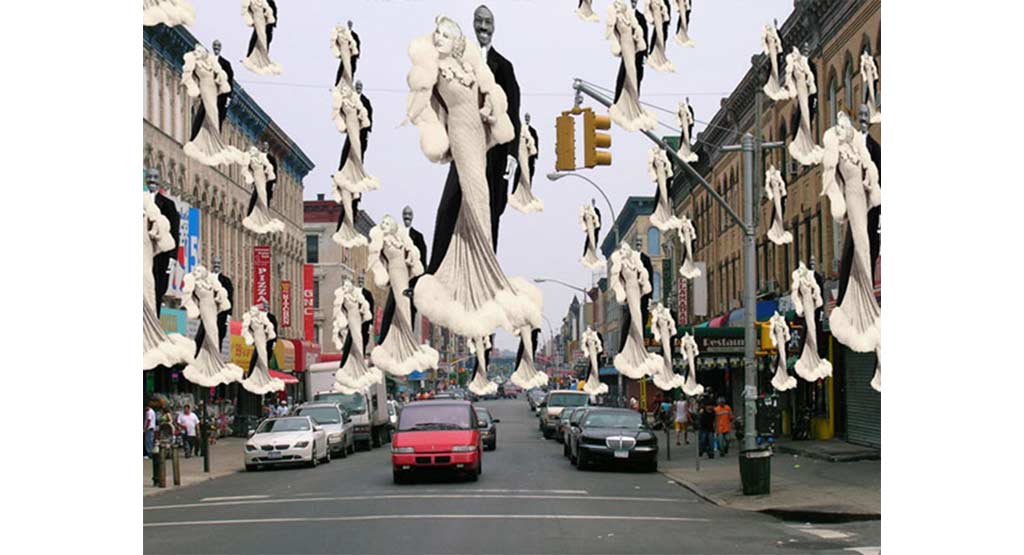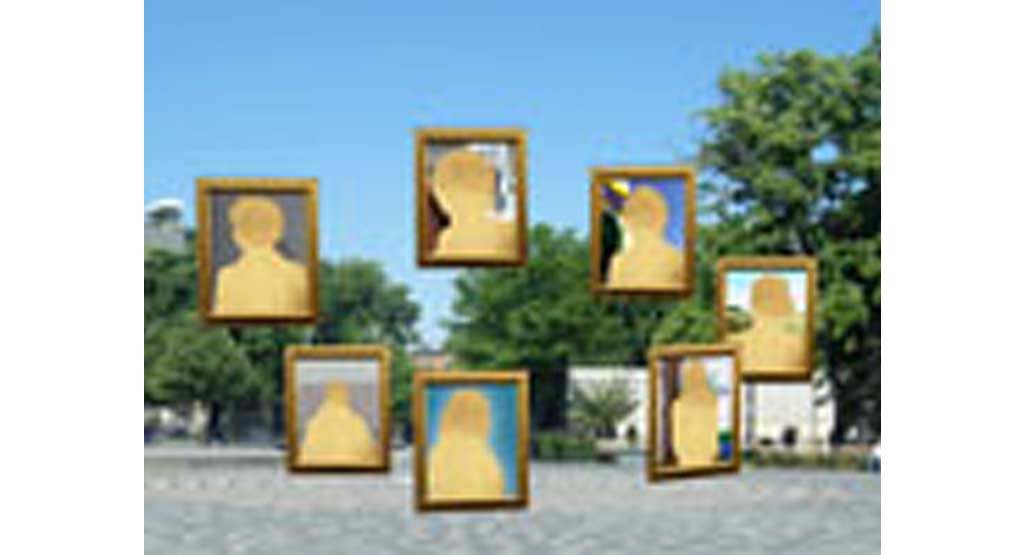 <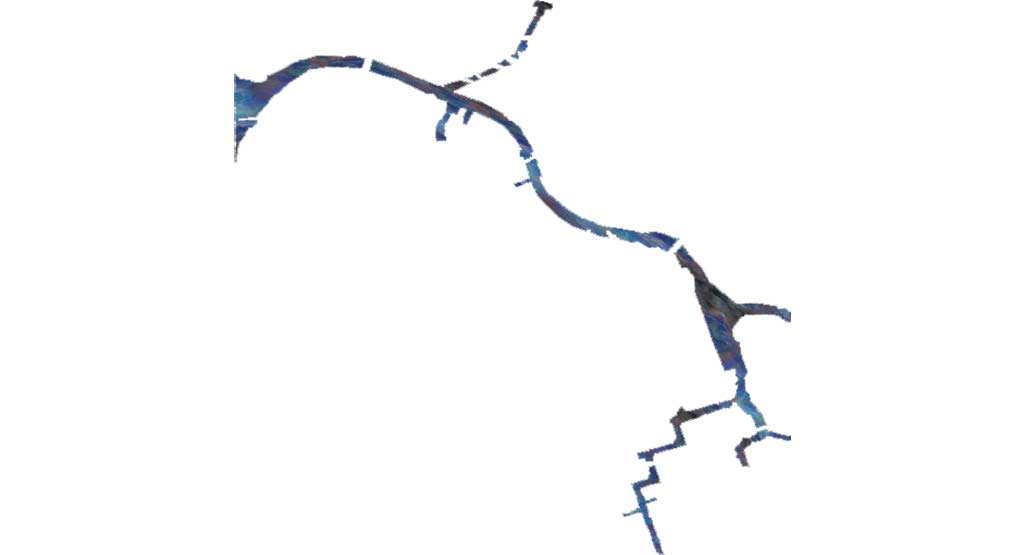 ARt Critic Face Matrix - MoMA New York premiere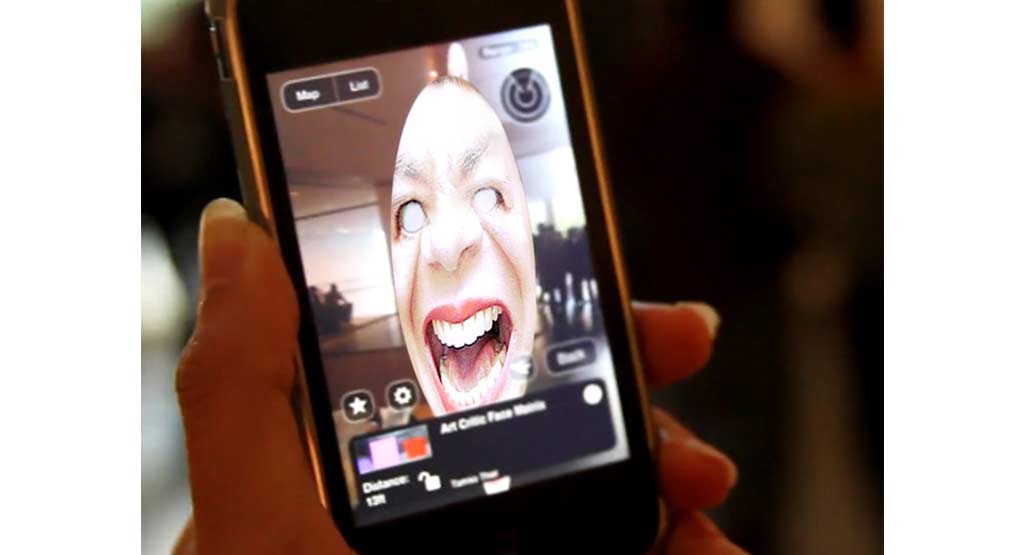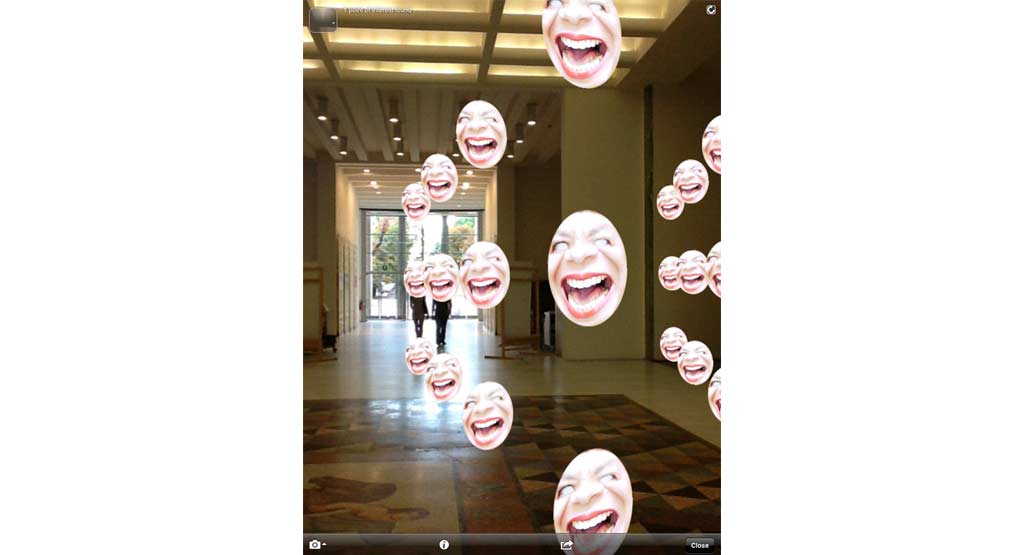 Virtuelle Mauer Berlin Wall Project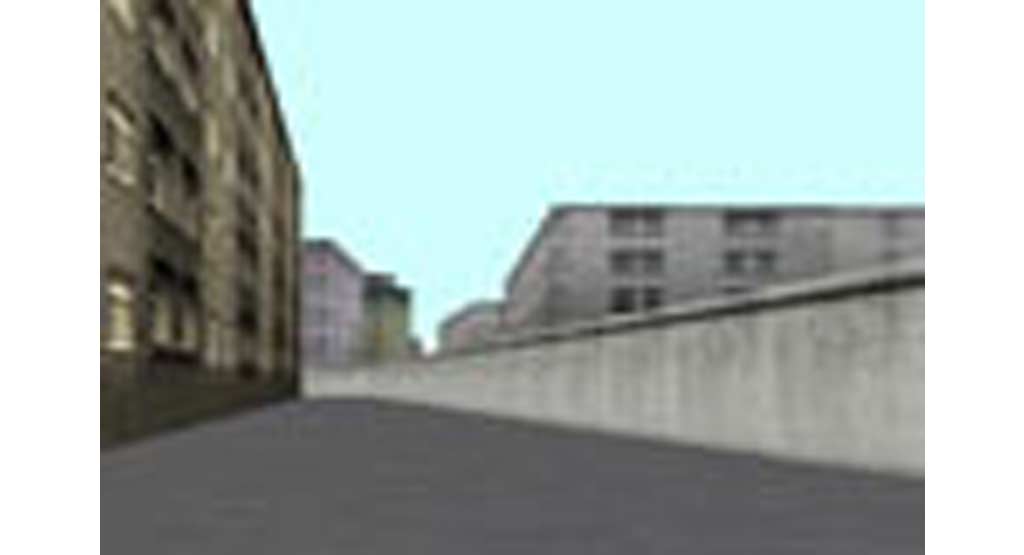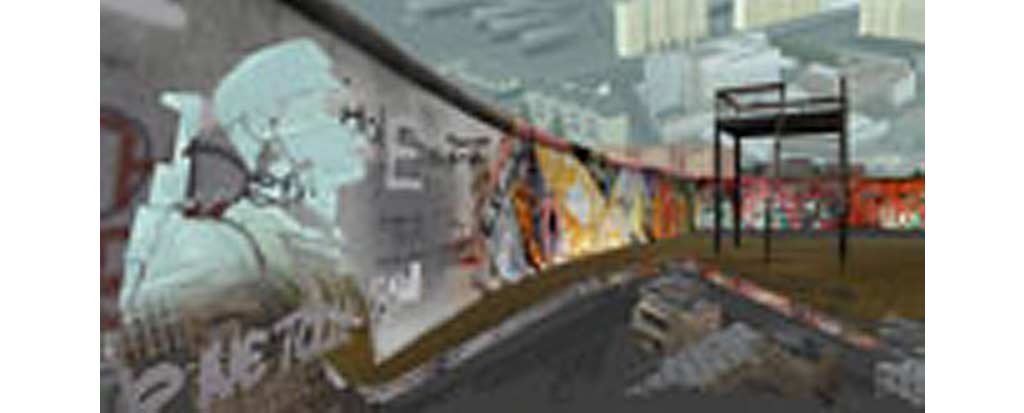 Travels of Mariko Horo Project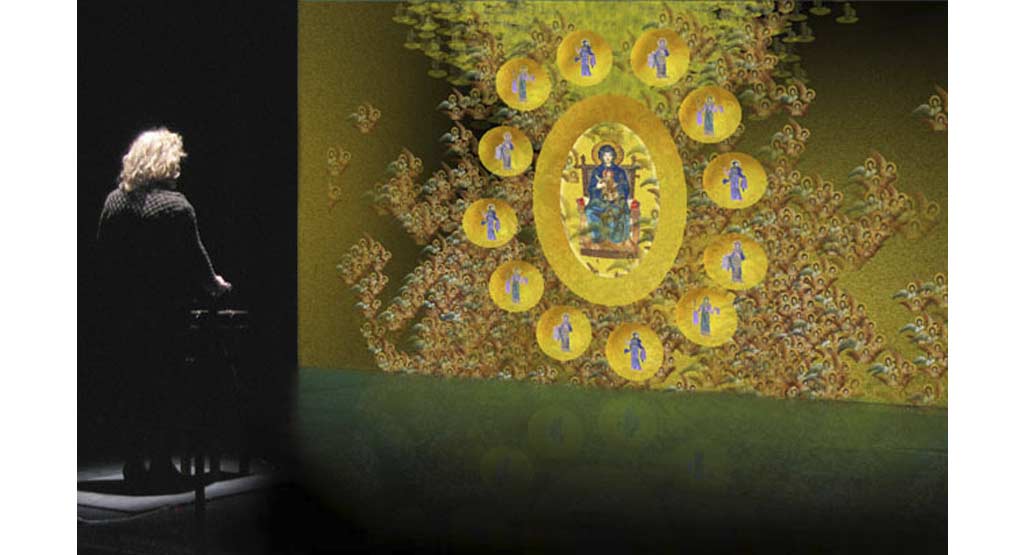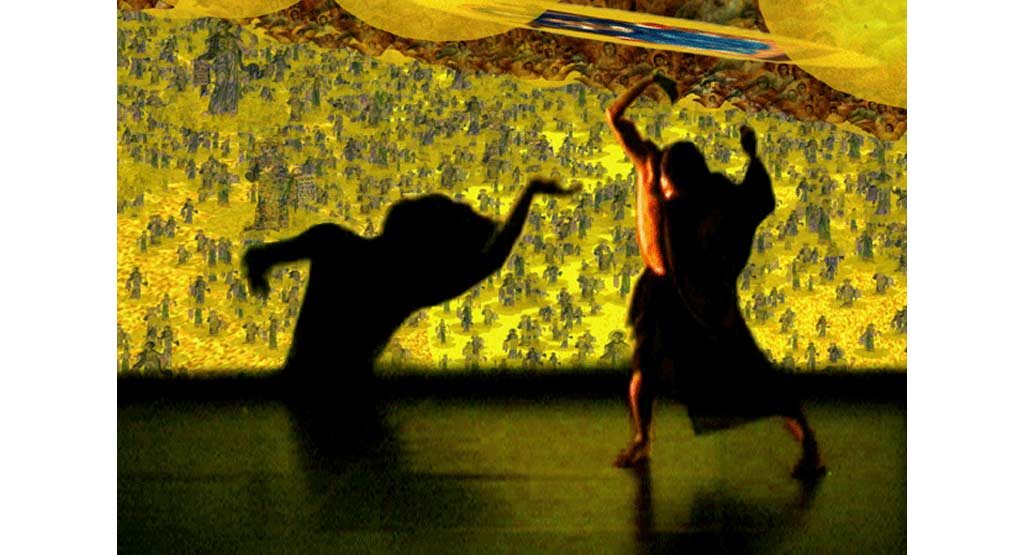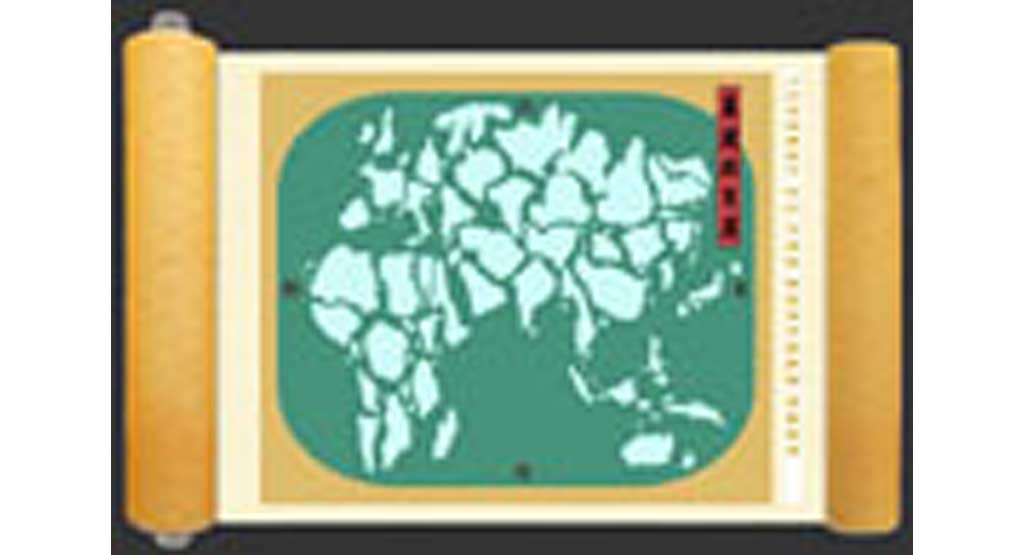 Other Virtual Reality Projects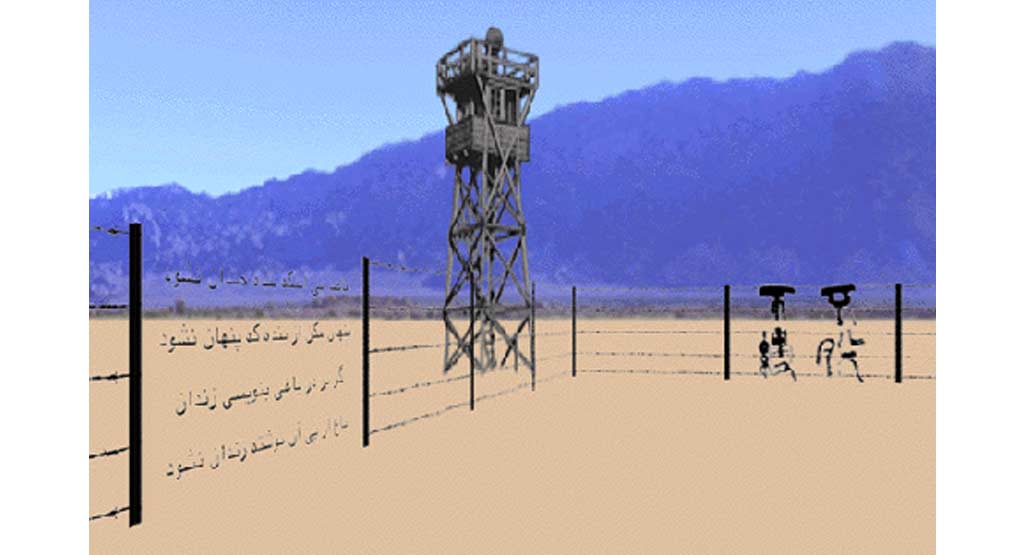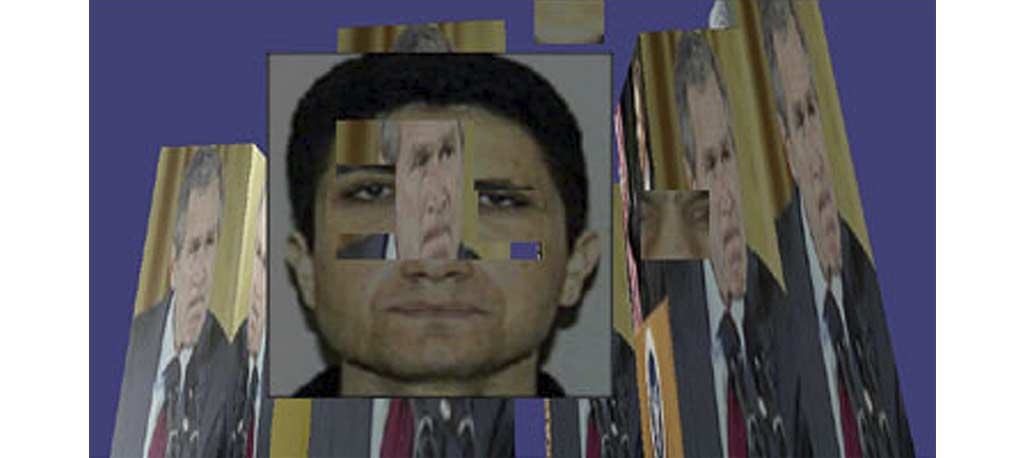 Video & Media Projects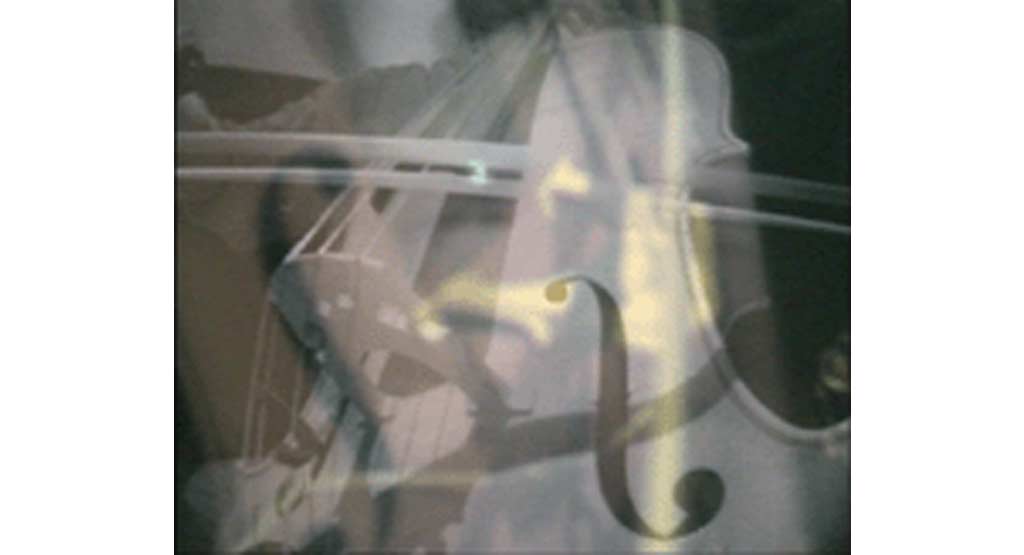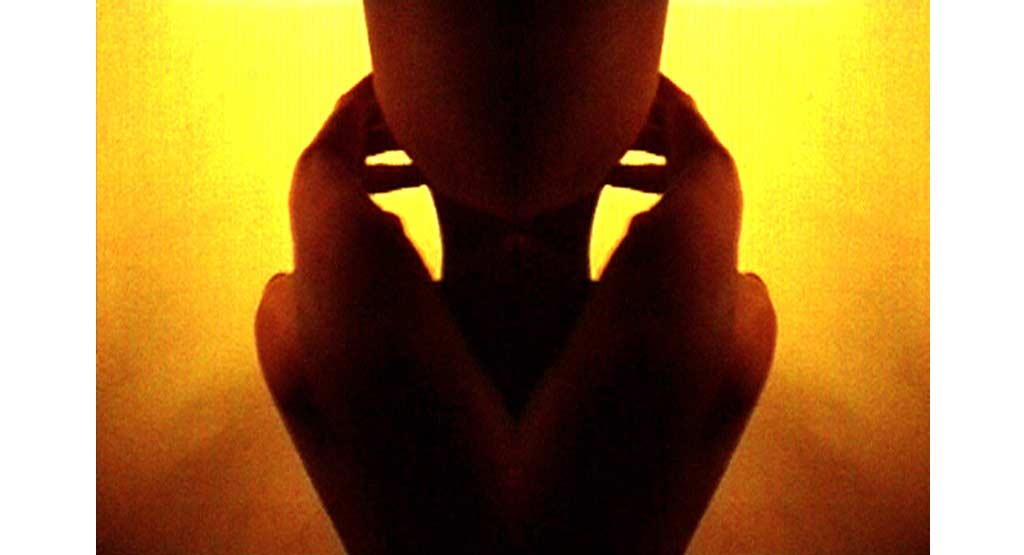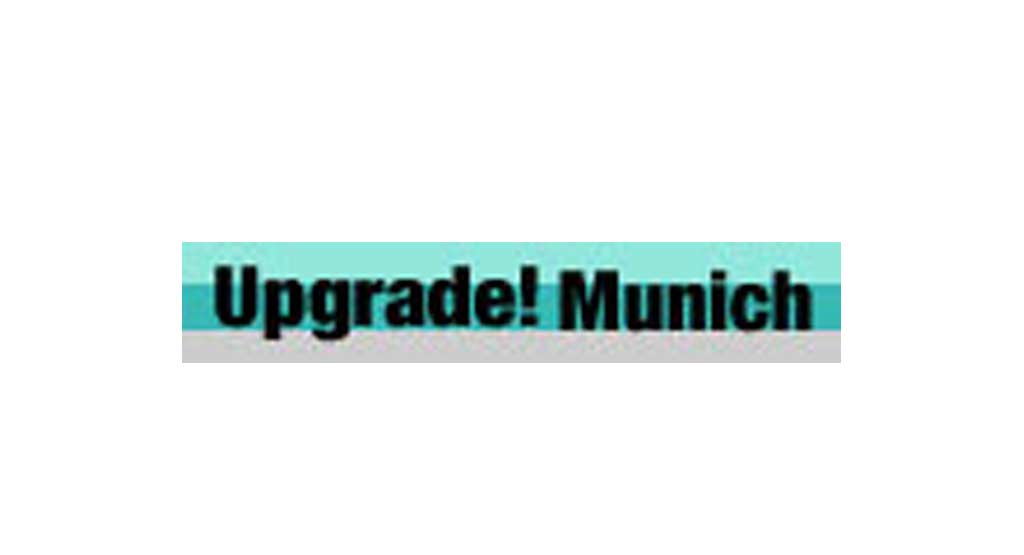 Objects