Beyond Manzanar: Poetry
Poetry is one of the highest forms of art in both Iranian and Japanese culture. In Japanese culture for instance, which puts importance on self-restraint of emotions in public, it is one of the few vehicles for people to express their innermost feelings.
In Beyond Manzanar we have worked poetry into the 3D space as a quiet but pogniant narrative voice. Zara has written an original poem as the resolution for Beyond Manzanar, and created new translations of poems from the famous Persian poet Rumi. Midori Kono Thiel has created new calligraphy for poems from Sojin Takei, written during the Internment, and for ancient poems from the Manyoshu.
"Mandala for Manzanar" by Zara Houshmand
Beyond Manzanar ends with the following poem, seen against the mountain panorama of Manzanar.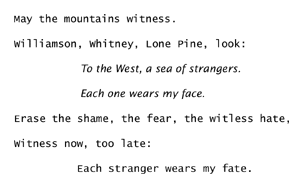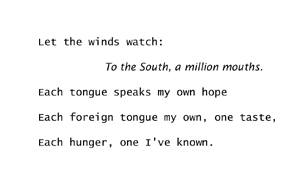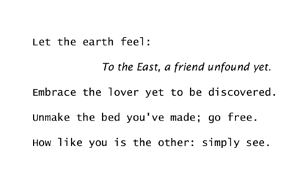 "Fence Poems:"
In the large camp, the media attacks hovering in the sky are balanced by the quiet sentiments of exile and longing caught in the barbed wire fence. We have taken these poems from a number of sources, showing them in their native language and in English translation.
Jalal Al-Din Rumi : New translations by Zara Houshmand
Rumi was a 13th Century Persian Sufi mystic. Zara Houshmand is winning acclaim for her new translations of his poetry.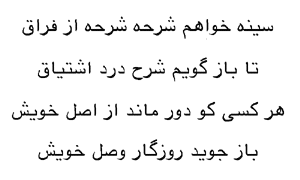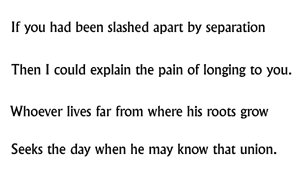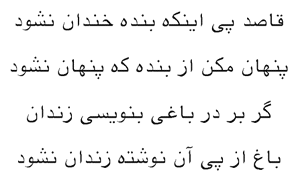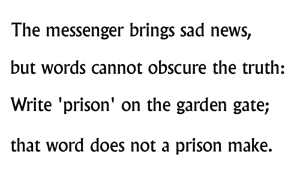 Sojin Takei: Poetry from the internment
Sojin Tokiji Takei was principal of the Paia Japanese language school on Maui, Hawaii, and cofounder of the Maui Tanka Poetry Club. When the war broke out he was interned in a series of different relocation camps. Although he was never in Manzanar, the poems included in Beyond Manzanar are haunting expressions of sentiments that apply equally well to all the camps.
The translations are by Jiro and Kay Nakano from the book Poets Behind Barbed Wire, a collection of poetry written by men separated from their families and interned in the "FBI camps." They are reproduced courtesy of Bamboo Ridge Press, an independent publisher of literature by and about Hawaii's people.
Japanese calligraphy is by Midori Kono Thiel.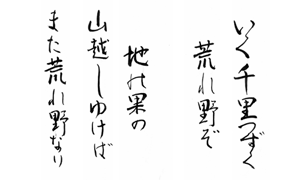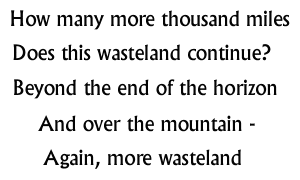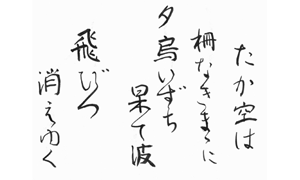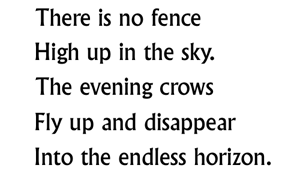 The Manyoshu (Collection of Ten Thousand Leaves) is the earliest anthology of Japanese poetry. It is a collection of 4500 poems dating from about 630 AD - 760 AD, and was compiled around 770 AD.
Japanese calligraphy is by Midori Kono Thiel.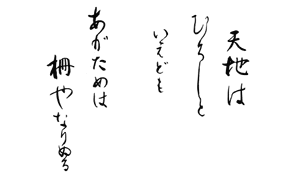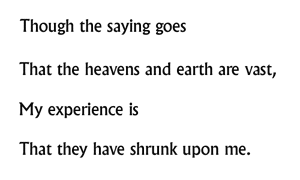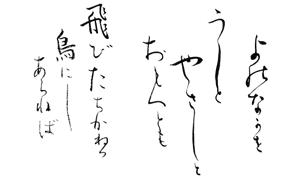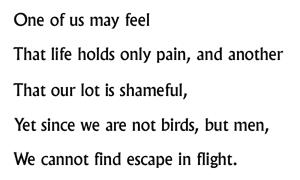 | | | |
| --- | --- | --- |
| "Fubaku Fudatsu" is a buddist concept that roughly translates to "truly free." It a state of being in which you are neither inhibited nor constrained nor wild and out of control. | | |
Webpage text © 1998-2002 Tamiko Thiel and Zara Houshmand.
"Resolution Poem" and English translations of Rumi © 2000 Zara Houshmand.
Japanese calligraphy © 2000 Midori Kono Thiel