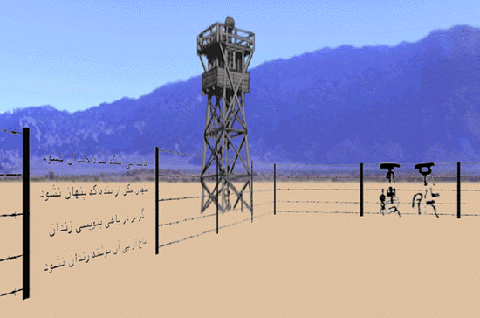 A 3D interactive virtual reality installation by Tamiko Thiel and Zara Houshmand

Moving Image New York Art Fair - Feb. 27 - March 2, 2017
Moving Image Immersive Media presents Beyond Manzanar as an historic virtual reality artwork. Tamiko Thiel will be present during the exhibition. More information at the Moving Image website.
Download background information (8.5MB) on Beyond Manzanar,
with historic articles and images.
In his book The Total Work of Art: From Bayreuth to Cyberspace, Boston University Professor Matthew Smith concludes with: "... it is encouraging that some digital artists have begun to reflect critically on the tradition of the Gesamtkunstwerk, to introduce estrangement devices that are not ultimately reincorporated back into the totality of the work. Such a Brechtian response to the total work of art is most clearly in evidence in Beyond Manzanar." (The book is available on amazon.com; here is a pdf excerpt of the section on Beyond Manzanar)
In her award-winning book From Sites of Memory to Cybersights: (Re)Framing Japanese American Experiences, Regensburg University Professor of American Studies Ingrid Gessner explores Japanese American commemorative practices dealing with the construction and mediation of cultural memory and national/ethnic identity. A chapter of the book is devoted to Beyond Manzanar. The book is in English, and is available from www.amazon.co.uk in the UK, on the German website www.amazon.de or on the Japanese website www.kinokuniya.co.jp.