Brush the Sky
A calligraphic family narrative, written onto the skies of Seattle (2015) and San Jose, CA (2019).
Tamiko Thiel: Augmented reality & digital prints / Midori Kono Thiel: Japanese calligraphy & mylar hangings
Gallery Artworks
Originally created in 2015 as site specific public art + Wing Luke Museum gallery installation, Seattle
23 October 2019 - Premiere of the Silicon Valley Edition:
CONSTRUCT\S exhibit, Wing Luke Museum (May 2015 - April 2016)
In "Brush the Sky," a mother-daughter duo bring the ancient art of calligraphy into the 21st century.
In the Wing Luke Museum, transparent wall hangings by
Midori Kono Thiel
emphasized the abstract nature of calligraphic art by deconstructing the strokes of Japanese characters across multiple parallel layers in non-traditional ways. The transparent layers and their shadows, stirred into motion by a slight breeze, invited visitors to regard each stroke in its own right (see video).
Her daughter Tamiko Thiel enhanced the installation with augmented reality (AR)* overlays. These virtual artworks, visible through an iPad mounted on a rotatable pedestal, enclosed visitors between veils of "real" and "virtual" calligraphy to incorporate them into a total installation.
"CONSTRUCT\S" exhibition Wing Luke Museum
May 15, 2015 - April 17, 2016
The gallery component of "Brush the Sky" was part of CONSTRUCT\S, curated by Stacey Uradomo-Barre.
www.wingluke.org/constructs
Wing Luke Museum of the Asian American Experience (Smithsonian Institution Affiliate) 719 South King Street, Seattle, WA 98104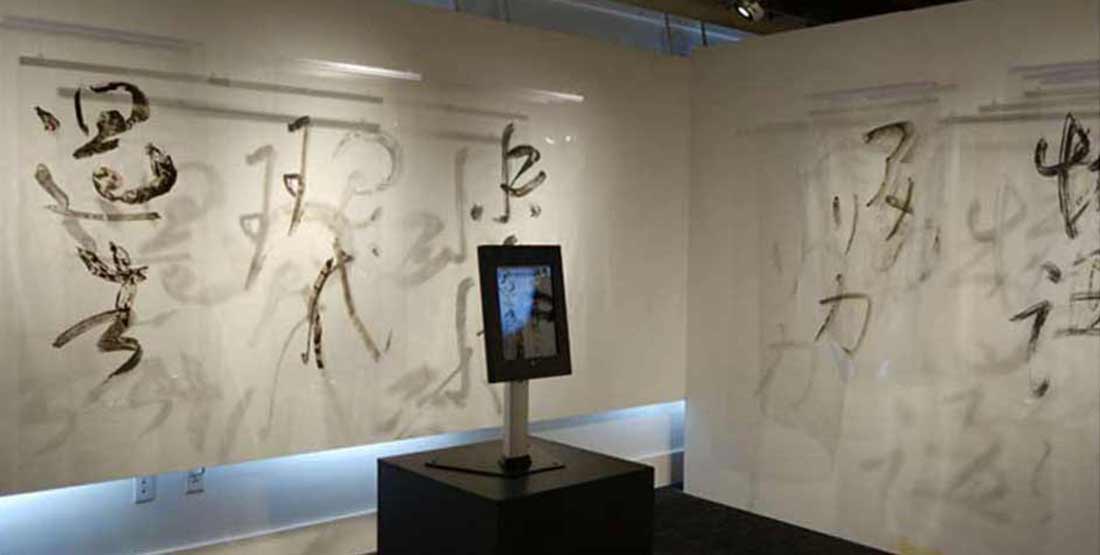 "Brush the Sky" on-site AR artworks
Permanent city-wide public art installations. The public art component of "Brush the Sky" consists of 18 site-specific AR calligraphy installations in Seattle. The sites and their augments were chosen for their significance to the Kono Thiel's family history and experiences as Japanese American artists in Seattle.
For images and viewing instructions on how to see the AR artworks on site, please see On-site Artworks page. Or contact tours@wingluke.org to arrange a tour of sites near the Wing Luke Museum. Guides have iPads for visitors without mobiles.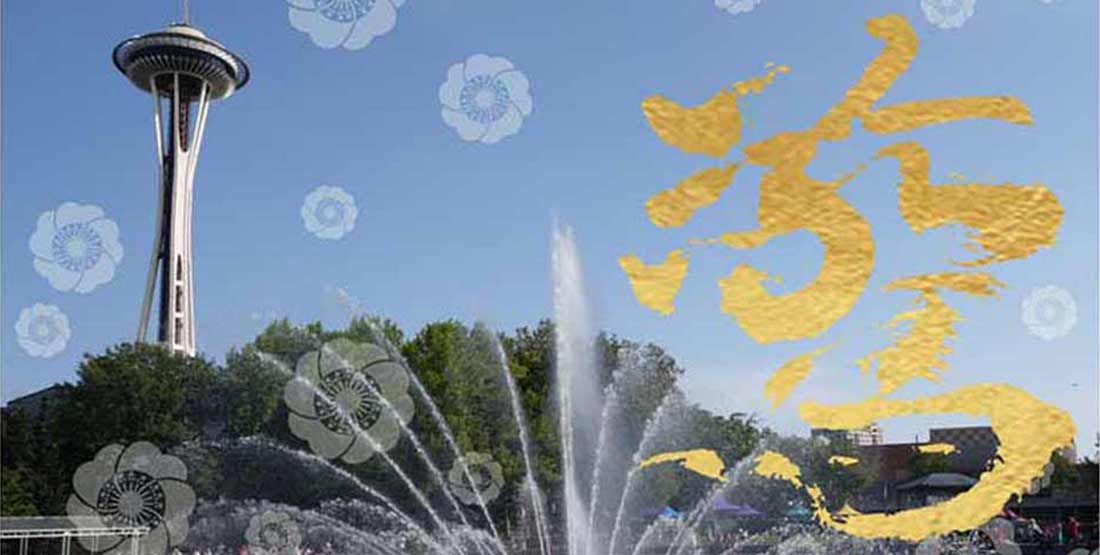 * Mobile augmented reality (AR) reifies the hitherto unseen layers of memory and culture associated with a site into artworks visible in the display of a mobile smartphone or tablet AR app. The artist places virtual computer graphic artworks – 2D, 3D or 4D animated - at selected sites via their GPS coordinates. Viewers at that site see the virtual artworks as an overlay on the live camera view of their surroundings, as if the artworks were physically present at that site. The real and the virtual merge into a new experience of reality.