Manifest.AR @ Zero1 Biennial 2012
I am delighted to participate in the 2012 Zero1 Biennale as part of the featured artist group Manifest.AR! I am showing two new works and have also infiltrated ARt Critic Face Matrix into two museums.
The augmented reality artwork "Clouding Green" floats a massive augmented reality cloud – in colors ranging from sooty carbon black to brilliant renewable green – over 8 major Silicon Valley cloud computing providers cited in the Greenpeace report "How Clean is Your Cloud."
Click here for more information, images, locations ...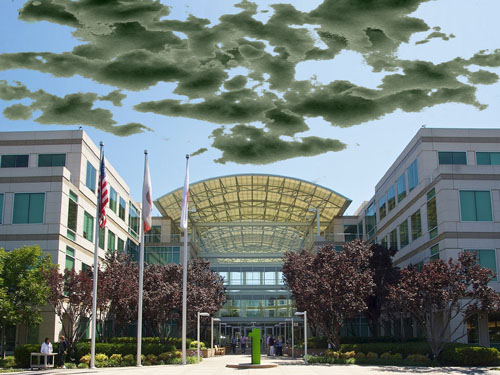 "Clouding Green - Apple HQ" - Greenpeace Clean Energy Index 15.3%
Fortune 500 Cookies
Fortune 500 Cookies are gold wafers of silicon that were discovered in Silicon Valley and are now propagating around the world.

Fortune 500 Cookies are available all over the world!
Click here for more information and viewing instructions ...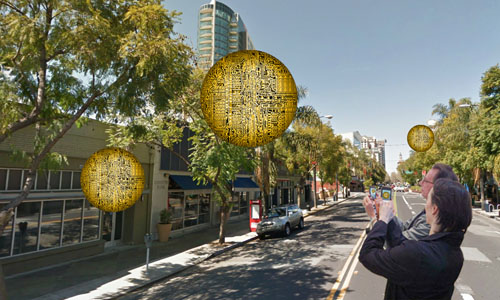 "Fortune 500 Cookies" outside of the Zero1 Garage, San Jose, USA
"You call this ART???" In this animated, self-referential augmented reality artwork, critics' faces range from skeptical to outraged. After its premiere at MoMA NY it has been propagating to fine art museums worldwide, such as the San Francisco Museum of Modern Art, ICA Boston, Stedelijk Museum Amsterdam, Hayward Gallery London, LA MoCA ...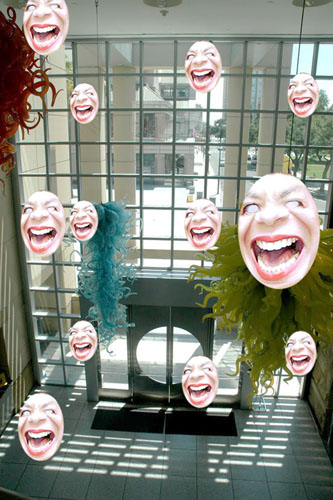 San Jose Museum of ARt lobby
Complete info on all Manifest.AR Zero1 projects, including viewing instructions and locations :
Direct URLs for those who already know how to launch AR artworks: