Newtown Creek (oil spill)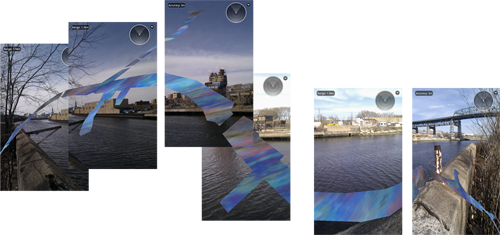 Newtown Creek is a massively contaminated Superfund site running through the Greenpoint, Williamsburg and Bushwick neighborhoods of Brooklyn, New York. For the augmented reality (AR) artwork "Newtown Creek (oil spill)" I have created a 3D object from the outline of the creek, textured it with an irridescent oil spill and geolocated it at Meeker Avenue and Gardner Avenue in Greenpoint, Brooklyn, one of the few places with street access to Newtown Creek.
Viewing the artwork: [ download pdf with map and info ]
"Newtown Creek (oil spill)" is only viewable in the display of a smartphone (Android, or iPhone 3GS & higher). On your smartphone download and install the free layar app, go to one of the sites where the artwork is located, and search for "ar newtown creek". It takes a minute or two to download - try turning around and looking for it in all directions, up and down. AR artworks are shy and take a while to show up!

ON-SITE TOUR (free!) with RIVERKEEPER.ORG, Sunday April 10, 1pm:
A representative of the water quality advocacy group www.riverkeeper.org will meet us at the creek-side location of "Newtown Creek (oil spill)" to tell us about the history of the creek and current measures to clean it up.
Contact: Tamiko Thiel, US cell phone: 347-425-5934 [ download pdf flyer ]

ON-SITE LOCATION:
The AR artwork is placed where Meeker Avenue runs into Newtown Creek, at Gardner Avenue in Greenpoint/Brooklyn. (Click on images for larger versions.)
Public transit:
In Brooklyn take bus B48 either from Nassau station (G line), or from the Lorimer / Metropolitan / Grand St. station (G and L lines), to the end of the line at Meeker Av./Gardner Av. (this is the official name of the stop, but it is actually at Stewart Ave.!) [ Bus info ]



Images of Newtown Creek:

Newtown Creek in satellite image




Newtown Creek AR object (plan view)


View of Newtown Creek from Meeker Avenue, Brookline, NY




The water advocacy organizations Riverkeeper and the Newtown Creek Alliance have
extensive information on the history of the creek and the fight to restore its water quality.

Please go to this page for more information on the followingimages and their context: http://www.riverkeeper.org/campaigns/stop-polluters/newtown/:


Map of oil spill in Greenpoint
(image courtesy of riverkeeper.org)

Oil slick on Newtown Creek
(image courtesy of J. Lipscomb/riverkeeper.org)

Please go to the Newtown Creek Alliance website for interactive map
with more information on parks and access points along the river.

(Image courtesy of Newtown Creek Alliance.)