Serendipitous
Snail t-shirts

DESCRIPTION

Specifications for this two-place rivers cruiser are for a shapely but essentially flat-bottomed square-ended hull, built of exterior grade plywood and soft-wood framing. A two-meter long navigating platform amidships, sheltered by a folding bimini top, provides a place for spreading sleeping bags at night. Two side-by-side drive units are fitted in through-hull wells, and pedaled from fold-down adjustable seats. An aft cockpit is furnished with a portable w.c. and clothing storage, while a forward cockpit contains facilities for cooking and food starage: all shelterable under a removable fabric enclosure. Also stored forward is a folding bicycle, useful for procuring fresh bread and other supplies form the nearest village. An outboard swing-up rudder is controlled by a tiller and lines to the amidships operating position.
The all-in light weight of this design insures easy trailerability, and thus facilitates wide access to many river touring sites.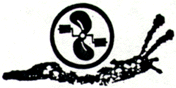 ENVIRONMENTAL ADVANTAGES

Benefits to the environment from this design include the hull built from wood, a renewable resoruce, with minimal amounts of metal and plastic. Propulsion poer is provided by the crew in the form of healthul, aerobic, bike-like pedaling, with complete freedom from all noise, vibration, odor, and gas and oil prllution. The easily-driven hull form produces no wake or wash at cruising speeds up to six kilometers an hour. The light-weight drive units of roto-molded polymer recycled plastic and stainless stell bicycle components have been proven in heavy duty rental service at vaction resorts throughout the world.